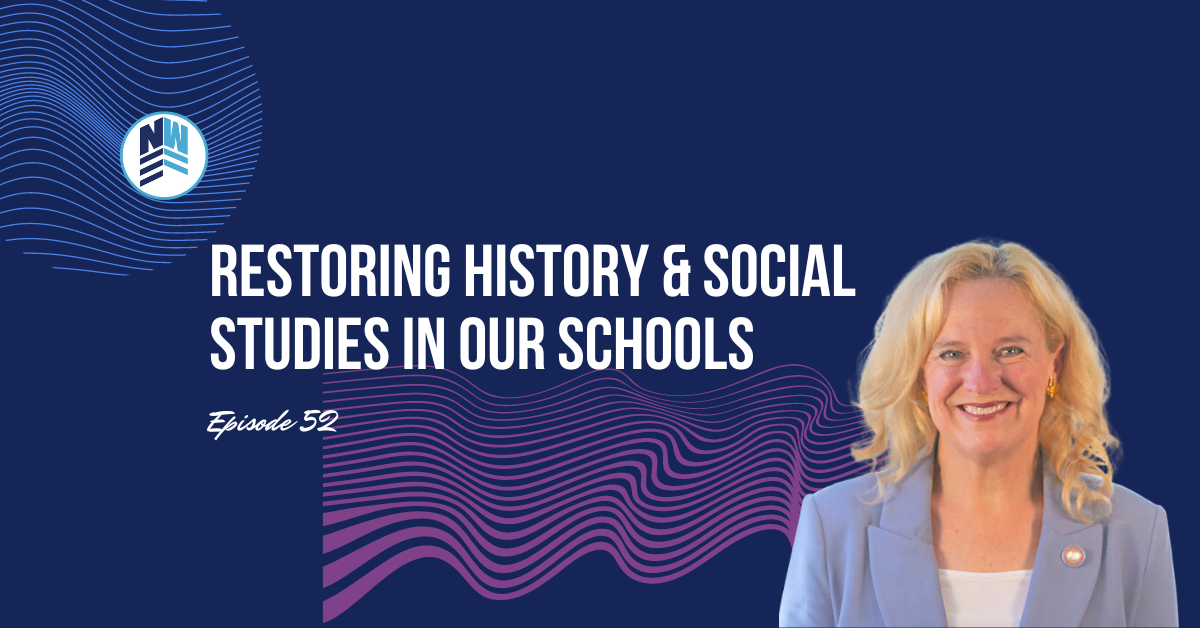 Is history dead? Or is it an important key to the future success of our children and country?
Recently, Virginia's Board of Education decided to revise the history and social study standards for public school students. This generated both praise and backlash, and Jillian Balow, our guest today on The State of Education, is right in the thick of it. Balow is not only the Superintendent of Public Instruction on the Virginian State School Board, but she was a teacher herself and formerly the Superintendent of Wyoming's education board. Listen in on The State of Education as she and Melvin discuss the shifting landscape of education and the importance of preserving our nation's history.
"We're at a time in our history where…parents….want their children to have a great education in  history and social studies. And we want to deliver the very best in class in Virginia." — Superintendent Jillian Balow
In this episode, Melvin and Jillian discuss:
The new draft of the history and social studies standards for Virginia students. (Drafts are reviewed every seven years.)

Why this year's revisions to the document are so important.

What is a "social studies standard"? Jillian explains that it's more than just a standard—it dictates a goal of excellence for schools which gives them a jumping off point for choosing curriculum and training teachers.  It also gives parents a transparent look into what their children are learning.

Why social studies and history are so important and why there's such a lack of knowledge about history among today's students. (Think back to any recent reporter polling the streets.)

Knowing historical facts, both good and bad, as the key to learning about ourselves as a country and thinking critically about the past, present, and future.

Some details on the delays and controversies surrounding the 2023 proposed revision of the history and social studies document.

How teachers should "leave their ideology at the door" when teach history and social studies in order to facilitate critical thinking 

The process and timeline of this year's history and social studies standards revisions and what Virgnians can expect going forward
If you like what you're hearing, stay tuned for our next episode on The State of Education with Melvin Adams.
If you'd rather watch the video version of our podcast episodes, subscribe to our YouTube channel to get notified every Wednesday when new episodes launch. Here is today's conversation with Jillian Balow and Melvin Adams:
RESOURCES MENTIONED ON TODAY'S EPISODE:
As of last week, Virginia's State Board of Education has approved the  draft of the history and social studies curriculum standard which Jillian and Melvin discussed in today's episode. It is now open for public comment before it goes back to the Board for another vote in a few months. You may submit your comments on the draft

via this form

.

The Board of Education will also be holding several hearings where the public is invited to come and offer feedback on the document. Here's a list of the dates and locations of each hearing:
Monday, March 13, 2023
Jamestown Settlement
2110 Jamestown Rd, Williamsburg
Tuesday, March 14, 2023
George Washington's Mount Vernon
3200 Mount Vernon Memorial Highway, Mount Vernon
Wednesday, March 15, 2023
Piedmont Community College
501 College Drive, Charlottesville
Thursday, March 16, 2023
O. Winston Link & History Museum of Western Virginia
101 Shenandoah Ave NE, Roanoke
Monday, March 20, 2023 
Southwest Higher Education Center
1 Partnership Circle, Abingdon
Tuesday, March 21, 2023
Robert Russa Moton Museum
900 Griffin Blvd, Farmville  
Each public hearing will begin at 7:00 p.m. Registration of speakers will begin at 6:30 p.m. Speakers will have three minutes to speak and should bring copies of their comments for the Board of Education.