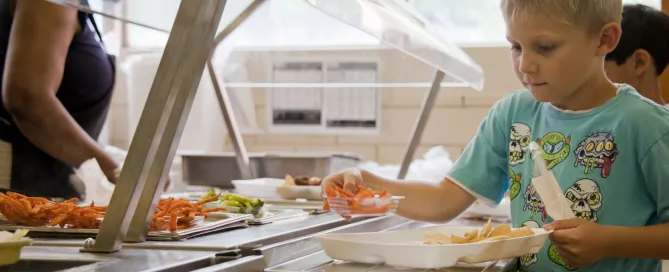 California will spend $650 million annually to provide free lunches for 6.2 billion students. 
Newsweek reports that the new lunch program will be the largest in the country, made possible in part by an unanticipated budget excess for the state's school funding.
"This is so historic," says Erin Primer, director of food services for the San Luis Coastal Unified School District on California's central coast. "It's beyond life-changing."
California's public school budget for 2021-2022 has received a 30% increase, writes The Hill. Funding has grown from $69.3 billion to $80.4 billion. From that increase, all students in California will receive free meals, regardless of their family income.
Tony Wold, Associate Superintendent of West Contra Costa Unified School, likens the meals to school supplies. Wold says, "Just like you need to give students textbooks and a computer, there are certain things you need to do. And this is one of them."
The cities of New York, Boston, and Chicago have free lunch programs, but California is the first state to have a universal lunch program. (Maine has since instilled a similar program to California.)
Federal guidelines say that families must make less than $34,000 to qualify for free lunches and less than $48,000 for reduced-price lunches. The limit shifts yearly along with federal poverty standards, but it fails to take into account the high cost of living in California.
Primer describes common situations that keep families from utilizing free lunch programs. Some fear that their illegal immigration status may be revealed. Often, lower-income students don't want others to know they can't afford lunch, so they don't eat.
This new program will cover higher-quality food options, so students can enjoy fresh produce, bread, and cheese from local places.
For Tina Self, mother of three, the program comes as a relief. She says, "It might seem like a little bit, but it helps a lot."
"Lucky for us we both have a job and we have two running cars," she shares about her family. "But we're barely making it as it is."
What else will the school budget cover?
The Hill shares that California's school funding will also cover mental health support, anti-bias curriculum, LGBTQ+ student support, teacher recruitment and retention, and school infrastructure.
As part of this budget, teachers will be trained in LGBTQ+ competency. NBC News reports that the training will cover "topics such as school anti-bullying and harassment policies and complaint procedures; how to identify LGBTQ youth who are subjected to, or may be at risk of, bullying and lack of acceptance at home or in their communities; and how to find targeted support services for LGBTQ+ students, including counseling services, among other topics, according to Equality California."
Supporters say the training is necessary as LGBTQ+ students face unique challenges, like being more susceptible to bullying.
Governor Gavin Newsom approved the budget's inclusion of $3 million to train public school teachers in LGBTQ+ competency. California is the only state to allocate public school funding in this way. 
---
How well do you think California is spending its school budget?