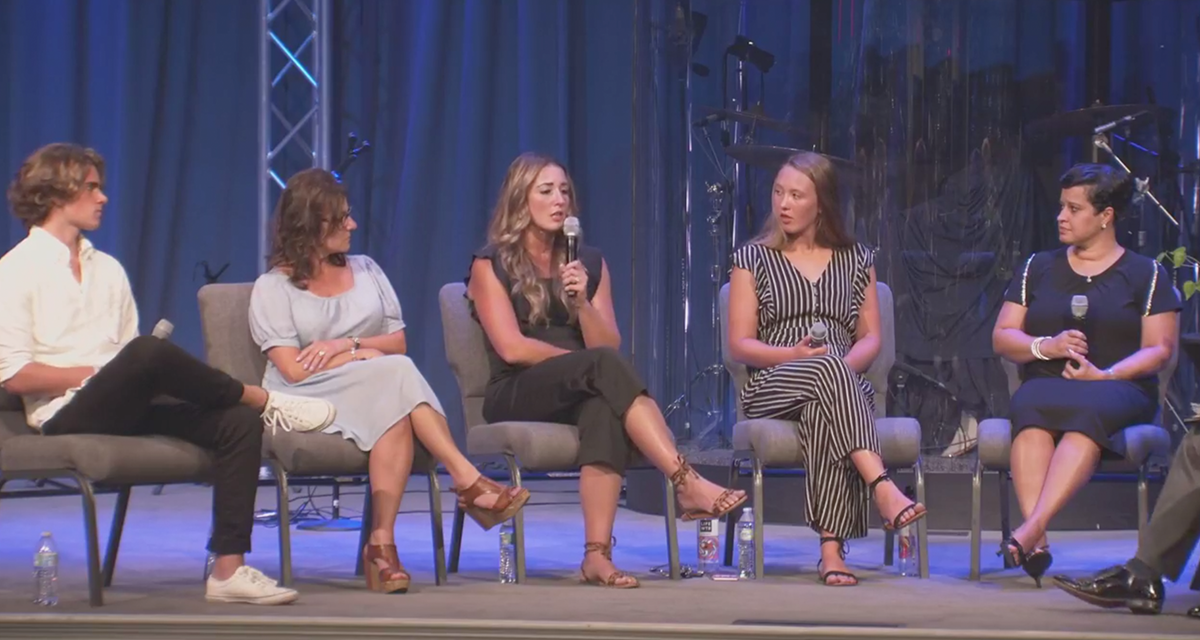 "Now is the time…to be engaged and be active with your children. Because at the end of the day, that's where we're going to see things changing," says Michelle Lynch, a wife, mother, and Functional Health Practitioner from Salem, Virginia.
Last Thursday, the Noah Webster Educational Foundation facilitated a conversation between parents and students on the importance of parental engagement in American education. The event aired on Facebook Live. (Missed it? You can watch now.)
During this event, a panel of five parents and students hashed out questions such as:
W

hat is parental engagement?

How do parents and teachers work together?

What are some of the biggest challenges that parents and students face today?
According to Charnika,—wife, mother, and educator—"[Parental engagement is] being healthily involved in your child's future academic, personal, social success… you're helping them along the way. You're allowing the teachers to do their job and respecting them, but also standing there letting them know, 'I'm here. I'm here to support you. We're here to work together to help my child and their future and where they're going."'


Conversation in the Home
These days, many parents are concerned about government mandates creeping into schools. These mandates often drive ideologies that directly contradict the values that parents are teaching their children at home. One way you can actively combat this issue is by cultivating a healthy parent-child relationship built on a foundation of good communication.
Charnika shares, "As parent[s], we lay the foundation for what [our children are] going to believe, how they're going to feel, how they're going to interact with other people. And so that's crucial for them in how they grow up and [to know] their identity. You know, how they get along with other people, how they share a perspective. Are they going to be a leader? Are they going to be a follower? All of those things are important."
It's up to parents to initiate intentional conversations with their students about what is going on in the student's life. Mutual respect can bloom from this and give children the opportunity to see that their voices are heard and their concerns are valid.
Students Getting Shut Down at School
Student-panelist 14-year-old Bella Lynch was raised in a highly communicative environment at home, but noticed that it has become nearly impossible to carry on any real conversations at school.
"You cannot just go into school and have a conversation without being shot down and told you're wrong," says Bella "You can't just put your opinions out there to just get a good discussion, to just talk and figure out what you truly believe and just throw beliefs back and forth."
"You just can't do that because you're told you're wrong immediately. And I think that's ridiculous. The only way you learn anything is to hear other things and other options, and that's no longer a choice anymore because you're sent to the principal's office, you're told by your teachers that you're wrong as soon as you say any opinion other than theirs."
Having involved parents and strong home environments is critical for young people meeting push-back in schools. If they are running into opposition at school, they must have the opportunity to go to their parents and discuss what's on their mind.
Sixteen-year-old Evan Inman, student-panelist at the roundtable, shares that "A lot of stuff goes on [at school] that parents and teachers don't know about that really does need to be addressed."
Never before has it been more essential for parents and their kids to engage in good discussion. Where else can they turn?
What about Dad's Role?
The cliche term "soccer mom" is around for a reason. Most of the time, it's moms who are more involved in a child's education. What about the dads? Are they just as important as the moms?
"I think we've all been part of a team, whether it was a sports team or a club of some sort where you have a critical member of that team that plays a strong role," guest panelist Michelle Lynch shares. "And I think that fathers are that."
"The different perspective is obviously a huge thing," she continues. "I think right now in society we're seeing a lot of demasculinizing men in general, where they don't want them to be the strong leaders that they're meant to be. But [men] play a role that I can say, confidently, us women do not play. And I am okay with that because we play a very different, yet critical, role."
The Inman family has experienced the joy of an involved dad. For Evan especially, as he notes, "There's just a different connection that my father and I have on some things that my mom and I don't have. Sure, I still go to my mom for some things. But with my, dad there's just some things that we connect better with, with him being a man and me being one."
Evan's mother, Jennifer, agrees. "I think fathers are really important. I know that [from] having four boys. My husband's view of some things is quite different from mine, and oftentimes he'll put things into a different perspective….And so to hear his take on certain things—everything, but especially in relation to the education of the children—and his ability to express it to the kids [in a way] that's more personal than me because I'm a woman."
All children need a positive masculine example in their lives to look up to and share conversations with. When possible, that "father figure" should be fathers themselves.
Student Bella added to the conversation, "[I] can come home with certain issues, and I will talk to my mom about it and tell her what's going on, and we'll discuss it and debate it; and then I go to my dad and he just gives me a very different outlook on it. Though they might show me the same ending conclusion, he shows me a different approach because they're two different people."
Working Together to Educate Future Generations
It is common to find a tense, imbalanced relationship between parents and school faculty. At the end of the day, both parties are responsible for educating the next generation; however, each group has a different, harmonizing role to fill.
Since panelist Charnika is a parent, educator, and administrator, she carries a well-rounded perspective of how both parties interact. She encourages a holistic approach.
"I do believe that parents need to be involved academically but also with the social, personal, and spiritual skills that are related to their children," she explains. "I believe parents need to communicate with teachers, I believe they need to know what's being taught….And when you do that, that's how you keep that strong involvement in the education system as we talked about before, being transparent, having that voice."
Panelist Jennifer Inman says building a good rapport with teachers and administrators is essential. And if you do those things, "you will be respected and they will be more apt to share things with you." Building that connection with the school faculty can be as simple as "just going in and helping out in the classroom, helping out with class parties, all the way up to helping out with prom or other events just to be there and to have that open communication with the teachers and just to let them know that you want to be involved."



Continuing to Speak Up!
Additional Topics
If you missed the discussion, here are a few other ideas the panelists shared:
Kids do better when their parents encourage and support their efforts at school.

For kids who don't have parental engagement, school faculty must give them value through quality interaction.

Parental engagement should be a priority, not a sacrifice.

School choice is a necessity, and parents have the right to make personal decisions for their students.

Parents hold the government accountable by connecting with local, state, and federal governments and by

maintaining the right to opt their children out

of inappropriate content.

Parents must educate children on what their rights are so that they can stand up for themselves

What happens when parents surrender their rights and responsibilities to the government and how do parents recover their rights?

Don't be afraid to start an important conversation; it only takes one match to start a fire.

Parents should model respect and critical thinking skills for their children because the school system (in general) is only teaching kids how to listen to specific things and then regurgitate that information.

Parents and teachers need to focus on teaching kids

how

to think, not

what

to think.
Closing Encouragement
In conclusion, Charnika shares, "We have to learn how to look at someone else's perspective and see their life and where they're coming from. And that will help us to adjust but to not accept…to not lose our voice, but to still be proactive and speak [the] truth."
For parents who are perhaps stressed out and not sure where to start, Jennifer encourages them to "Just grab [the opportunity to be involved in your children's lives], because it's gone so fast."
In the words of Michelle, "If you are not influencing your child, other people are."



About the Panelists
Charnika Elliott is a wife, mother, and educator. She is also the founder of Noah Christian Community Center Incorporated and Noah Christian Academy. Being involved in the lives of the youth is her passion.
Bella Lynch is a 14-year-old student at Salem Highschool in Salem, Virginia and is excited to be a part of this panel about Parental Engagement.
Michelle Lynch (Bella's mother) has 5 other children ranging from ages 2-14, most of which are enrolled in public school. She is a Functional Health Practitioner and she and her husband own a gym in Salem, Virginia.
Jennifer Inman is a wife and the mother of four boys. She is also an Administrative Assistant at Lil' Ospreys Early Learning Center in Moneta.
Jennifer's son, Evan Inman is 16 years old and a senior at Smith Mountain Lake Christian Academy. He has been attending SMLCA for six years.