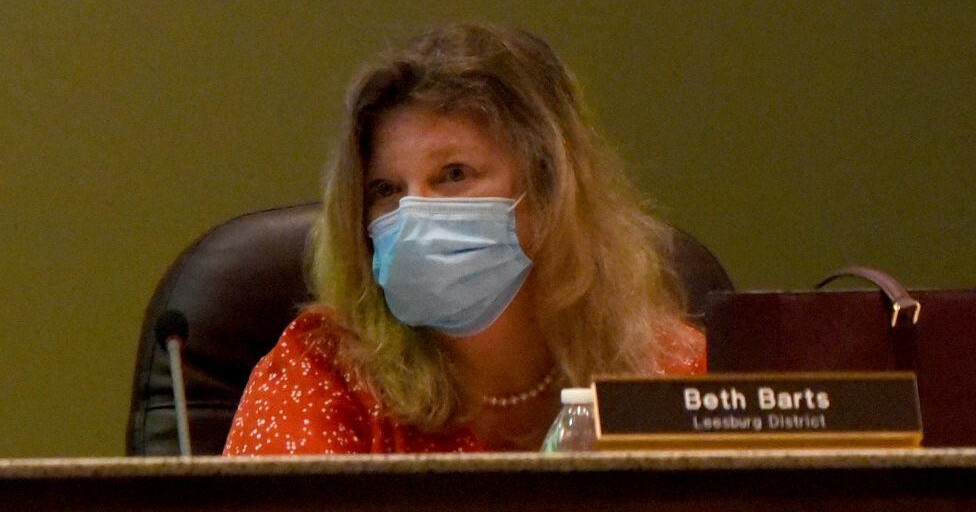 Amidst a storm of controversies, Loudoun County school board member Beth Barts announced her resignation via social media on Friday.
"Please accept this letter as my formal resignation from the Loudoun County School Board effective November 2, 2021," Barts wrote on Facebook. "This was not an easy decision or a decision made in haste. After much thought and careful consideration, it is the right decision for me and my family."
Since taking office in January 2020, Barts' role on the school board has been a topic of dissension, Loudoun Times-Mirror reports. This past September, a petition for her removal received 1,860 signatures. It was filed by the Citizens of Leesburg District, citing that Barts' "neglect of duty, misuse of office, and incompetence in the performance of her duties" were reasons why she needed to leave the position.
A hearing has been set for the removal case on October 25, but the attorney representing Barts, Charlie King, doesn't think it will go anywhere.
"All Beth Barts ever wanted was to be on the school board," King shared with the Loudoun Times-Mirror. "I trust those who taunted her mercilessly over the past months are satisfied. If Ms. Barts had chosen to fight the removal petition, she would have won."
Barts was given an official reprimand in November 2020 while in office. The reason was a supposed "unauthorized disclosure of confidential, attorney-client-privileged information" from a previously closed session, explains Sterling District School Board Chair Brenda Sheridan.
Also, in March 2021, Barts' social media activity came under scrutiny as her interactions with other Loudoun County Public School community members were deemed inappropriate. She received a censure from the school board for breaking its code of conduct.
Ian Prior, the executive director of Fight for Schools—which conducted its own recall efforts against Barts—responded to her resignation in a statement.
"This could not have been an easy decision for Ms. Barts," he said. "We have made known our displeasure with her actions as a school board member over the past several months, but today she has done the right thing. Her former colleagues should take notice."
"The community should know, however, that the problems at Loudoun County Public Schools and on the school board go well beyond one school board member. We will continue to shine a light on Loudoun County Public Schools and will keep fighting until we have a school board of common sense, non-partisan members and a superintendent who is accountable to parents and tells the truth," Prior wrote.
Loudoun County school board meetings have been making national headlines for a number of months now, especially with a sexual assault case that has recently come to light.
In a Daily Wire interview, Scott Smith, a resident of Loudoun County, says a boy wearing a skirt sexually assaulted his daughter in the girl's bathroom. Smith said he came to a school board meeting to talk about the assault, but he was arrested before he could say anything.
At the same June 22 meeting that Smith was arrested, school superintendent Scott Ziegler stated "…the predator transgender student or person simply does not exist," saying that "we don't have any record of assaults occurring in our restrooms." Following that meeting, the Loudoun County school board voted in August to allow students to use the bathrooms that align with their gender identity.
Interestingly enough, despite Superintendent Ziegler saying there's no record, there actually was a report of sexual assault. The Loudoun County Sherriff's Office stated the assault took place on May 28, 2021, when a staff member reported the incident to a school resource officer. Since then, at least one boy around the age of 14 has been arrested for sexual assault.
Smith claims he was told by Superintendent Ziegler that if Smith wanted justice for his daughter, he needed to stay quiet about the assault.
The Loudoun County Sheriff's Office has worked to clear up any misinformation regarding the situation, but can't provide many details as the case is still ongoing.
---
What do you think about Barts' resignation? Do you think the recall efforts against the Loudoun County school board members are justifiable?