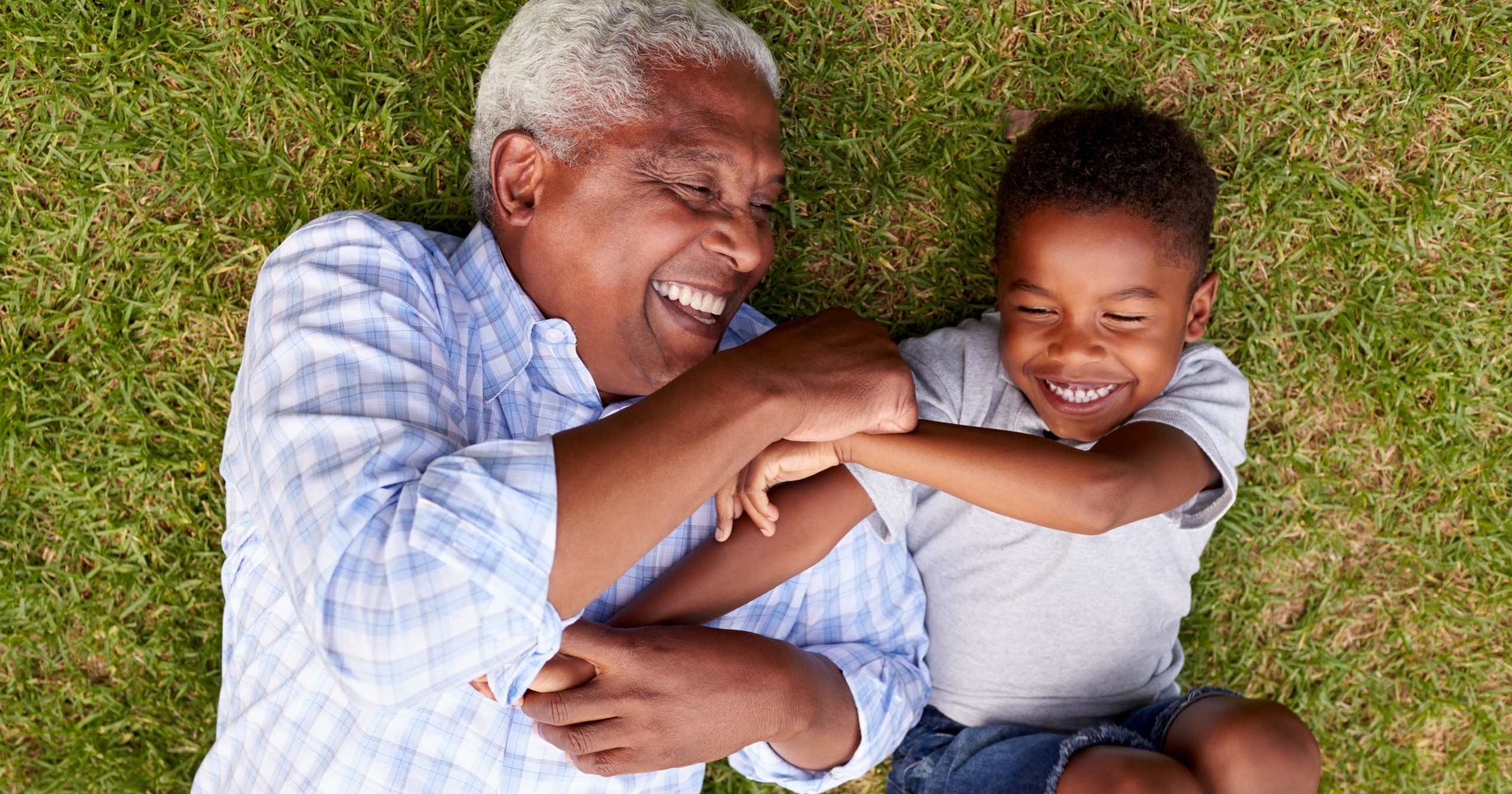 Note about the author: A mother to six children, the author watched her great-grandmother live with dementia throughout her childhood and now cares for a grandmother with dementia.
---
My children stood clustered behind me, wary and a little frightened. They had been given strict instructions to stay where they were and not to ask to go any further. Their trembling voices gave a good effort to the off-key notes of "Happy Birthday," but it just wasn't the same. 
"Thank you!" my grandmother called from across the driveway. She stood with my grandfather and swung her arms awkwardly. Arms that normally would be busy giving hugs. "Love you guys!" 
This scenario, familiar to many of us now, took place in March of 2020. There was so much we didn't know, and our desire to keep our loved ones safe, especially our elderly, was a top priority. My children found themselves suddenly shy and uncertain around great-grandparents with whom they had a previously robust relationship. With the weeks turning into months and young memories fading, would the cost outweigh the gain of these measures?
The past eighteen months have seen a lot of changes to life as we knew it. Chief among them have been to our relationships. We were separated by a desire to keep each other safe and well—but still separated. 
Some of the greatest to suffer have been our elderly, particularly those suffering from memory loss. Isolation is often a struggle for our older generations. Coupled with health safety measures, lack of technological skill, and inability to travel, our society as a whole is suffering from a lack of intergenerational relationships. 
We need our seniors as much as they need us. 
We can combat this growing chasm by teaching our children to value and seek out relationships with people older than themselves. By familiarizing our youngsters with our oldest generation's unique circumstances and gifts, we reflect a belief that all life is precious—whether senior grandparents, family, neighbors, or community members. By prioritizing those relationships ourselves, we set an example of love, care, and respect that benefits our communities at large. 
Why our children need relationships with the elderly
"Connections between generations are essential for the mental health and stability of a nation." – Margaret Mead
Studies across the globe conclusively demonstrate immense benefits to children and elderly people who are engaged in consistent activities together.
In 2016, The Atlantic reported, "Numerous studies have linked social interaction with decreased loneliness, delayed mental decline, lower blood pressure, and reduced risk of disease and death in elders. Socializing across generations has also been shown to increase the amount of smiling and conversation among older adults, according to one Japanese study from 2013." 
These benefits aren't just for our senior citizens. According to Stanford News, "Laura Carstensen, a Stanford psychology professor who led the report and is the director of the Stanford Center for Longevity, said, 'Contrary to widespread beliefs that older populations consume resources that would otherwise go to youth, there is growing reason to think that older people may be just the resource children need.'"  
Now, the question is how to rekindle those relationships. After a year or more with only Zoom calls and visits behind glass or across the driveway, how can we help our children reintegrate with our elderly? 
How do we address the confusing situation of dementia, a growing presence in our society? Many families are choosing to bring senior family members home rather than prolong their isolation in care facilities. How do we help our children to not only adjust, but also cherish these opportunities?
One of the easiest and most effective tools is books! 
Books offer a positive way to reinforce these relationships while strengthening our own connection with our children. Simple stories coupled with memorable illustrations plant positive impressions, open the door for meaningful conversations, and start the ball rolling for thought development. Here are some of my family's favorites on various topics such as dementia, infirmity due to aging, honoring our elders, loneliness, respect for a life different from our own, or joy in such connections:
By Jan Karon (Author) and Toni Goffe (Illustrator)
As a child, I clearly remember my mother purchasing this book for our own "Miss Fanny," a widow within our church, who always wore a parade of elaborate hats. I developed a strong friendship with her until her death in my early 20s. This story is perfect for even the youngest audience and introduces the concept of aging to its readers. 
By Mem Fox (Author) and Julie Vivas (Illustrator) 
Set within a nursing home, this book is full of vibrant residents with whom a young boy has developed personal friendships. His best friend is a dementia patient, and they share a special connection. With everyone's input, Wilfrid seeks to help her keep her best memories.
By Libba Moore Gray (Author) and Jada Rowland (illustrator) 
One of my children's all-time favorite books, the lush illustrations and engaging story captivate any age. The title character sets an example of generosity and service to the neighborhood children. When Miss Tizzy falls ill, the children have the opportunity to return her love and kindness. The ending may hint at Miss Tizzy's death, but in a subtle way that my older children only just picked up on.
By Karen Ackerman (Author) and Stephen Gammell (Illustrator) 
Share in the memorable experience of three grandchildren watching their grandfather's performance harkening back to his younger days on the vaudeville stage.
By Amy Hest (Author) and Jon J. Muth (Illustrator)
This book never fails to make me smile. The warmth of romance between an elderly couple and the rhythmic flow of the author's words make it an engaging and fun read. The hundred-year-old man is also learning to read, encouraging his young neighbor to not be afraid of doing hard things.
Written and illustrated by Patricia Polacco 
I was first introduced to this book through Reading Rainbow, and it remains a family favorite. A young boy builds a special friendship with a widowed neighbor through a kitten named Tush. A variety of topics are introduced, including loneliness, cultural differences, and death.
Written and illustrated by Allen Say 
Winner of the 1994 Caldecott Medal for its illustrations, this is a slower book, almost musical in its telling of a young man's life between his homes in America and Japan. 
By Margaree King Mitchell (Author) and James E. Ransome (Illustrator)  
Robust illustrations accompany the unfolding tale of a local barber living in the segregated south of the 1920s. This book, a recipient of the Coretta Scott King Award, is told through the eyes of the barber's young niece and tells how our lives are influenced by those who came before us.
By Eve Bunting (Author) and Donald Carrick (Illustrator) 
This story is my eight-year-old daughter's pick. She relishes the joy found when the seven-year-old character Anna helps teach her grandmother how to read.
By Eloise Greenfield (Author) and Floyd Cooper (Illustrator) 
A new book to our family, we enjoy the descriptions of Grandpa's faces for his theatrical productions. I appreciate the creative way that the story shows that even if an elder's face looks frightening or harsh, it doesn't mean that they have stopped loving us.
By Lester L. Laminack (Author) and Constance R. Bergum (Illustrator) 
This is a more serious story, as young Troy visits his grandmother in the nursing home. Though Miss Olivia can barely communicate due to Alzheimer's, flashbacks provide a look into her rich inner thought life.
By Patricia MacLachlan (Author) and Deborah Kogan Ray (Illustrator)
Written by the author of the beloved book Sarah, Plain and Tall, Through Grandpa's Eyes offers a compelling look into the active life of John's grandfather, who is blind. Younger children may not appreciate the slower pace and muted illustrations of this lovely story.
By Eve Bunting (Author) and Ronald Himler (Illustrator) 
This is the most mature story on our list, confronting important issues such as immigration, single parenting, unemployment, and the importance of honesty. We found this to be an excellent source of positive conversation with our children.
By Eileen Hill 
This is a wonderful little book full of poignant insights and humorous anecdotes reflecting the daily life of caring for a loved one with Alzheimer's. As a part-time caregiver to a grandmother with dementia, I found her honesty and humor refreshing. Mrs. Hill's observations apply to everyone who has found themselves in the position of caring for those who once cared for them. 
---
If anything, this past year and a half has taught us to cherish those we love. 
Our seniors have so much love and experience to offer our children, no matter their own needs and circumstances. I have seen my kids look at grandparents and neighbors with new eyes through the books listed, glimpsing not just a care-lined face but the glimmer of a life lived—full of stories and experiences from which to learn. 
They have found patience, encouragement, and curiosity within these pages. I hope these stories encourage your children to see the humanity and the opportunity found in their older friends.