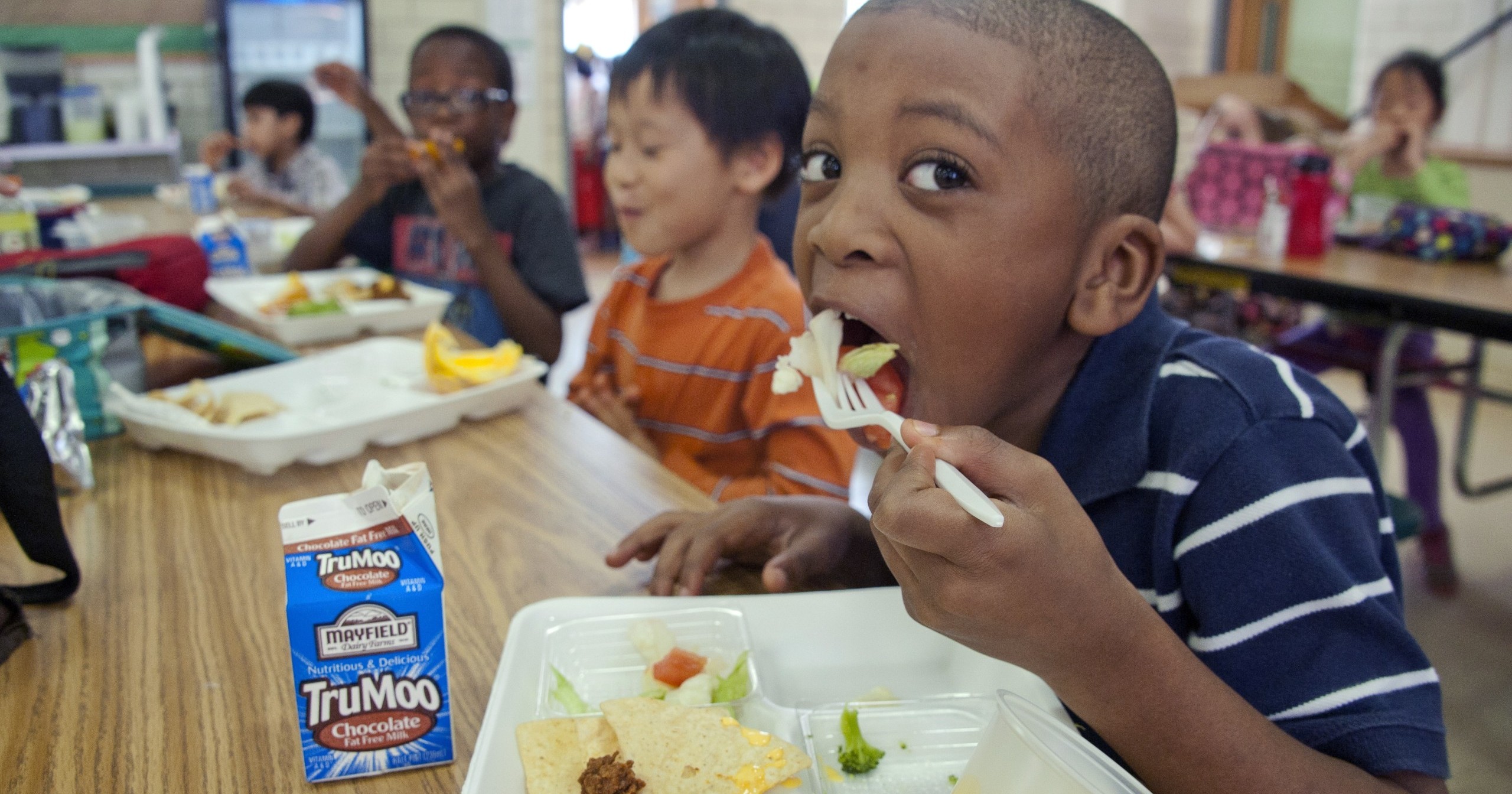 The national supply chain shortage has been tough on many organizations this year—and it's worse than just the expected delayed arrival of Christmas presents. Our nation's schools have been hit particularly hard as they struggle to bring in basic necessities like food for students.
In many school cafeterias, the meals students end up eating weren't initially planned on the menu, and they're served in to-go containers cut in half to resemble a bowl.
"We are seeing everything shortaged," Shani Hall, the general manager of school nutrition for a school district in Florida, shared with ABC Action News. "Shortages in meat, in grains and breads…milk we're fine because we have a local dairy. But basically we're seeing shortages all across the board, and paper products. So anything that could be served in dishes and trays and boats."
The products that the school needs are likely stuck in cargo ships off the coast or sitting in a facility with no truck driver to deliver them. Schools are also having a hard time budgeting for the rising food prices.
Jason Beech, a director of nutritional services in a California school district, told The Modesto Bee, a California newspaper, that prices for food orders have doubled or tripled—while arriving late, or sometimes not at all. For example, Beech says he placed an order for 150 cases of paper goods, but only five cases arrived. 
Some distribution companies have cut ties with school districts so the companies can work with more profitable customers instead. Schools are left trying to find alternatives to what they've done for years.
Many schools give free meals to low-income families and offer reduced-cost lunches to other students. NPR reports that the U.S. Department of Agriculture is supposed to help with the free meals, especially since meals have been free for all students because of the pandemic. But with supply chain shortages, even the government program hasn't been much help to schools.
Schools are now working to get food wherever they can—sometimes from odd or downright creative sources. A volunteer might deliver food from a nearby processing plant. A supply company might provide food here and there, but no contract deals. Someone in the district might donate a box of food utensils. As a result, schools face a day-in and day-out struggle to provide what students need.
For most schools, the problem is not necessarily a food shortage, but a lack of workers in food processing plants or truck drivers to deliver the food. Schools are facing their own worker shortage, with some districts short about 200 cafeteria workers each.
Experts predict that the shortages could persist into 2022 and beyond. Schools are getting creative to come up with solutions. They're reducing menu variety, getting prepackaged meals, and growing storage capacity. They're also ordering backup supplies weeks in advance so they can always have food for the kids.
One school district in California has even tapped into its own supply chain and logistics program as part of a Career and Technical Education pathway. The Modesto Bee writes that the "classes cover the supply chain, logistics, forklift operations and commercial truck driving." Students in this program not only get the chance to see the value of such a career through hands-on experience, but they can also help provide for the direct needs of the school.
---
What do you think about the supply chain shortage impacting schools? How might schools be able to overcome this issue?