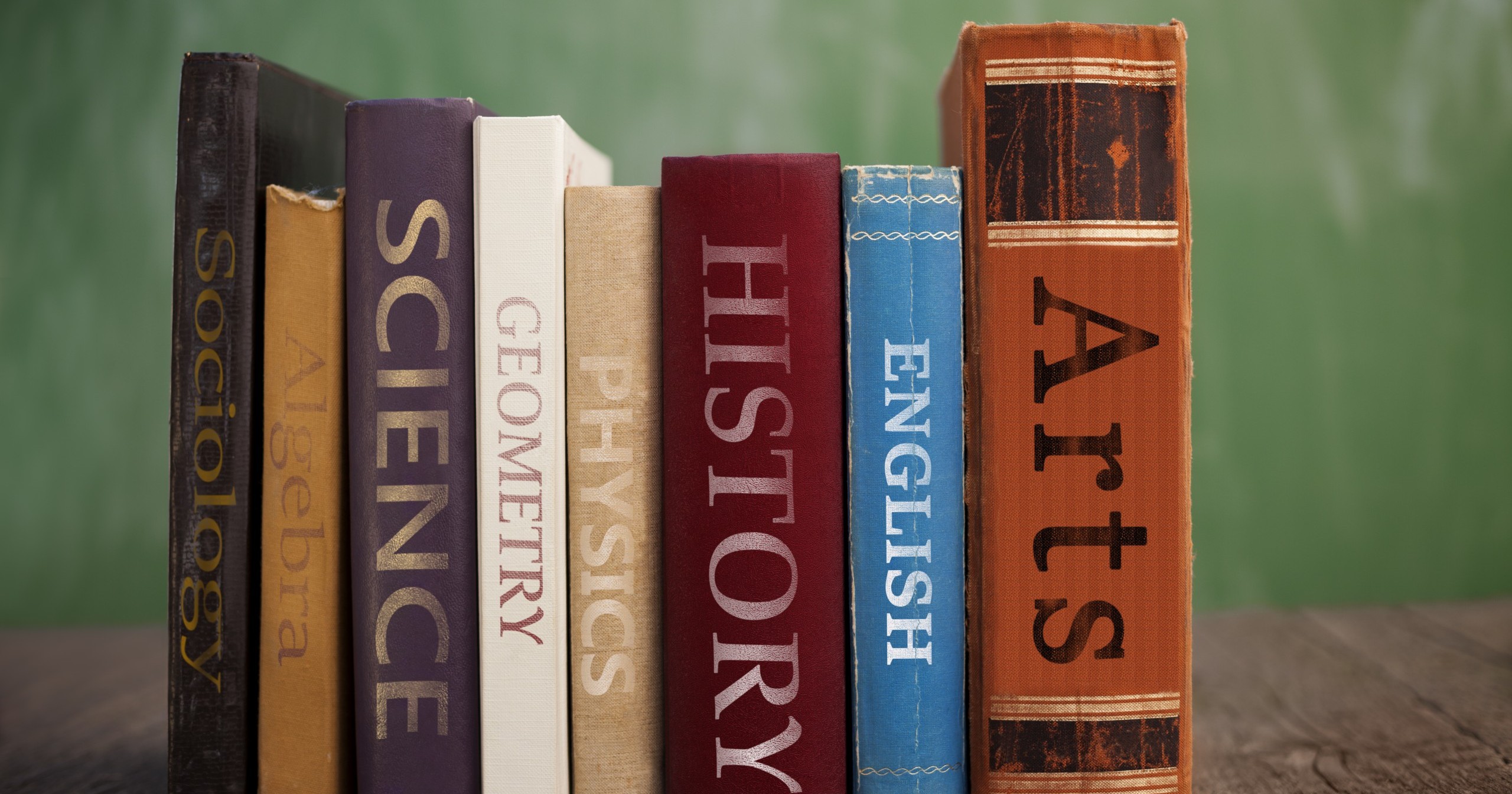 The world is a brilliant conglomeration of information, skill, industry, and communication. Productivity in such a complex world requires an educated and motivated population. 
As a parent, you want to make the most of the short window of time dedicated to your child's formal education so they can venture out into the complexity with confidence. 
I often watched the local school district's buses running about in my old hometown. On the doors of each of those buses was a logo with an open book surrounded by the words "Knowledge is Power." 
And so it is. 
Knowledge empowers citizens to make outstanding contributions. When there is a lack of education, society wilts and fades away. To paraphrase the Bible, "Where there is no knowledge, the people die."
Since education shapes the future in unimaginable ways, the school subjects that a generation prioritizes are more than a passing concern. If your child attends a public or private school, this decision might be somewhat pre-determined by the school's curriculum. If you are a homeschooling parent forging an education experience for your child in the familiarity of your own home, you have the opportunity to hand-craft an education that includes all the essentials. 
Francis Bacon said, "Reading maketh a full man; conference a ready man; and writing an exact man." Education should encompass a full range of subjects to produce a well-rounded, confident citizen. 
What subjects are vital in this mission? 
If this is a question you've pondered, read on! Let's dig deeper into the essential branches of learning for each stage of your child's formal education.
Primary Education
Early education is critical, says Walden University. "In terms of human development, the importance of early childhood education can't be overstated. A child's early years are the foundation for his or her future development, providing a strong base for lifelong learning and learning abilities, including cognitive and social development. Well-established research continues to emphasize the importance of early childhood education as a critical building block of a child's future success."
Generally addressing children between the ages of 5 and 11, the early basics of education are foundational and don't have to be complicated. Beyond the basics (the alphabet, numbers, colors, and shapes), early education typically includes some form of what is known as "the 3 Rs."
For centuries, a staple of Western education was the "3 Rs," a common historical reference to "Reading, Writing, and Arithmetic." These were the fundamental tools used to build a strong foundation in education for generations. 
Reading
We Are Teachers examines the correlation between reading abilities and a child's success in other topics. Based on an extensive annual K–12 student study examining their regular reading habits, We Are Teachers builds an excellent argument for students' need to develop good reading skills. The results of this study and many others demonstrate that reading deserves a place at the core of early education, at least at some level. 
Dr. Gene M. Kerns and Dr. Jan Bryan suggest that reading from an early age can have a vital influence on a child's long-term education. According to their compiled data, proficient third-grade readers were nearly five times more likely to graduate high school than their peers with below-basic reading skills. Students with high reading skills were also found to excel in mathematics in contrast to their counterparts with lower reading abilities.
Reading is a foundational—perhaps the most foundational—and essential school subject early on. 
Writing
Writing logically follows close behind reading. Children won't get far in their school years without conveying thoughts in written form in some way or another. The Journal of the Scholarship of Teaching and Learning states, "There is a significant need for students at all levels not only to be good written communicators but also to understand the importance of good writing skills."
Inc. lays out a strong case for the continuing need for writing skills in adulthood. In his book Rework, entrepreneur Jason Fried advises employers, "If you are trying to decide among a few people to fill a position, hire the best writer. [His/her] writing skills will pay off. That's because being a good writer is about more than writing clear writing. Clear writing is a sign of clear thinking. Great writers….make things easy to understand."
While the need for writing in general is largely accepted in education, today's modern academics do debate how focused educators should be on teaching students to write by hand. 
In the age of tablets, laptops, and personal hand-held devices, writing by hand often takes a back seat. Griffin Occupational Therapy makes a good argument for teaching children literal handwriting skills instead of relying primarily on technology for written communication. 
Whether writing by hand or with the aid of technology, a student's early ability to write at an age-appropriate yet competent level will increase their comprehension and communication skills as they move forward in their scholastic journey and prepare them for successful adulthood. 
Arithmetic
Arithmetic, the third "R," remains a very relevant academic pursuit for today's students. "Math skills provide a foundation upon which students can build their academic future," explains Merrimack College. "Understanding basic math concepts and how to apply them early in their education prepares children to excel as they move into higher grades." 
Parents, you can encourage your children to excel in their early math exercises by bringing in a real-world application. Allow them to earn their own money, count it out, and purchase an item they saved for. Or perhaps let them count the cups of flour or number of eggs when you bake. This will solidify the connection between academic exercise and real-world application while ensuring the building blocks necessary for their more advanced math experiences. 
Faith and Morality  
No less crucial than the "3 Rs," moral values and good character should be considered foundational for any child's education. 
America's youth are America's future. The country's success depends on the quality of our children's character and the depth of their moral commitment. Character education must not be neglected in the pursuit of academic achievement. The responsibility to educate kids in matters of faith starts with parents, who exercise school choice to partner with a school they trust to reinforce (or, at the very least, hopefully not undermine) their family's beliefs.
Moral development can begin in the very earliest educational setting and should continue throughout a student's entire school experience. 
For more about faith and morality in education, learn why your child's school should integrate a character curriculum. 
Other Foundational Subjects
Primary schooling in the United States includes grades K-6. Aside from reading, writing, and arithmetic, other subjects should be considered vital in these years. The Classroom notes that aside from the 3 Rs, the main essential subjects in primary education include:
Science

Social Studies 

Physical Education (may include social interaction and health)
These subjects should be taught at an appropriate age level and are supposed to lay a foundation for more complex concepts and skills later on in the child's school experience. 
Junior High
Junior high, or middle school, generally covers roughly grades 6-8, or ages 11-14. Most junior high schools consider these to be necessary subjects:
English language arts

Science

Math

Social studies/history
In junior high school, students begin building on their primary education foundation. Their education during this time forms a better view of life, history, and practical skills. It's an opportunity to grow, establishing a firm academic footing before the "big leagues" of high school and college.
ELA
Teach.com explains why English Language Arts is so important. "In middle school, the English curriculum evolves and expands to include more complicated reading comprehension, such as fiction, poetry, and essays. In addition, grammar and semantics become a focal point of lessons, and students begin to foster writing skills that encompass poetry, expository writing, and creative writing. Students in middle school are expected to expand vocabularies and develop a mature grasp of the five categories of language arts."
English at this stage of education provides the student with an invaluable understanding of critical concepts and an introduction to the literary world.
Science
"Grades 6-8 is a time of tremendous physical, emotional, and cognitive changes for students. It is also a pivotal time for understanding and gaining enthusiasm for science."
This quote from the National Science Teaching Association highlights one reason why science is a fundamental subject in middle school. The world of science opens in a whole new way for middle school students. They are at a prime age for exploration and amazement as the true magic of the world comes to light.
Science topics taught in middle school often include:
Earth Science

Life Science

Physical Science
Science in junior high offers students the opportunity to explore the world around them and identify their scientific capabilities and interests. 
High School
According to ThoughCo., high school focuses on four essential subjects: 
Math

English

Social science

Science
VeryWellFamily adds that foreign languages and physical education are generally required to graduate in addition to the four mentioned above. 
Beta Bowl suggests, "The time spent in high school can be viewed as the final 'incubation period' in which teens can learn, explore, and prepare for the future higher education, professional career, and adulthood that is to follow. High school is the perfect opportunity to figure out your strengths and interests and set yourself up for a future of success, for those who use their time wisely."
With these goals in mind, core high school subjects should prepare students to enter the real world as well-rounded citizens, competently prepared to "adult."
Math
"Some high school students find math difficult….Little do they know that math is an important part of everyday life!" MathProject emphasizes. "Without the right strengths in math, they may find it harder to overcome common life situations requiring an understanding of its concepts…"
High school math, covering topics such as algebra, geometry, and calculus, empowers students with key tools for the rest of their lives. Math classes in those final grade levels offer a student countless opportunities, whether they become a bank teller, an electrical engineer, a military service member, or a homemaker
Social Studies (or Social Sciences)
High school social studies complement a student's understanding of the world, history, humanity, and real-world issues such as the economy. 
"The main goal of teaching social studies is to teach students to become good citizens. We are living in a diverse society — one that requires knowledge of social studies to succeed," explains University of the People. "With a social studies background, children become adults that can participate civilly in our democratic society.…Social studies connect students with the real world."
High school social studies cover topics such as:
History

Sociology

Psychology

Civics

Political science

Geography

Economics

Anthropology
High school education aims to produce a well-rounded young adult, prepared to enter society as a functional citizen. The necessary subjects work together create the final version of this student that took over a decade to manifest. 
Education Examined
Martin Luther King Jr. once said, "The function of education is to teach one to think intensively and to think critically. Intelligence plus character—that is the goal of true education." 
Dr. King's understanding of education offers a beautiful summary of the first several years of a child's life. From that first confusing kindergarten class to the joy of high school graduation, core subjects shape and mold our children in unmistakable ways. 
Mastery of these K-12 essentials—reading, writing, math, English, science, history and other social studies, and physical education—are a great place to start for a well-rounded education, wherever you choose to educate your kids. Your school's philosophy or your family priorities may add to this list of indispensable topics, but you should certainly not take away from it.