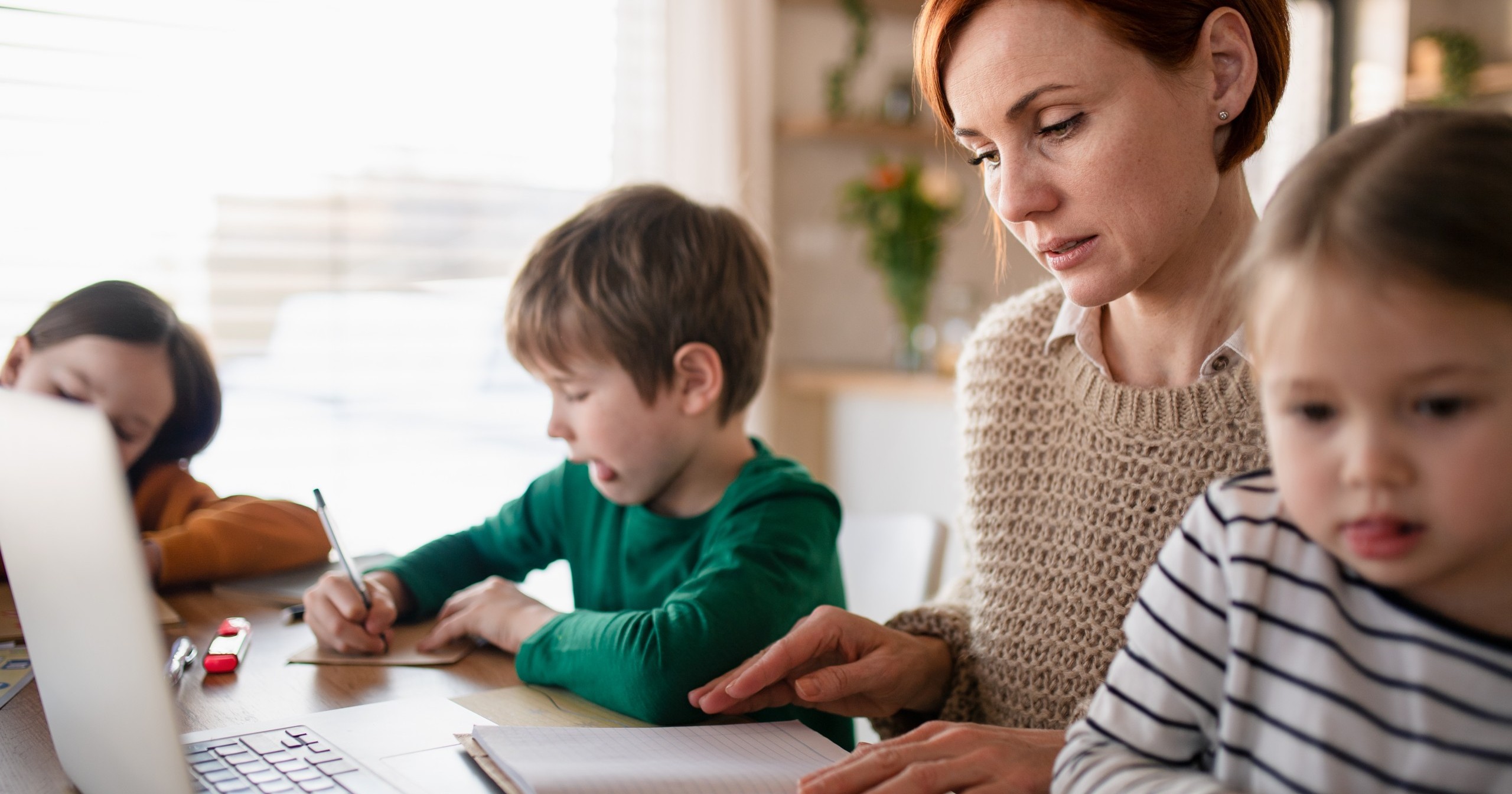 Did you know that roughly one in five homeschoolers in America is from a single-parent home? That means about 20% of homeschooled students are home-educated by a single parent. Surprised? If you thought that the option to homeschool was off the table for you, think again. Homeschooling as a single parent is possible!
Families without a traditional two-parent home don't fit the cookie-cutter expectations that society has of homeschoolers. True to its out-of-the-box nature, homeschooling shatters that mold and opens the world of education to a whole new level of growth!
Kim Sorgius, a homeschooling single mom of four, describes her journey. "It took me a long time to accept reality. Somewhere in there, I was forcing homeschooling into a box—one that closed the lid and said, 'Keep out: imperfect families and single moms.' I bought the lie that I wasn't enough…"
Real life is messy, no matter how your family looks. Home education is as diverse as the families involved! The beauty of homeschooling is the flexibility—it can fit any individual, lifestyle, or family type.
What seems to be an impossible dream on the surface can actually become a reality! 
Where to Begin?
That's the big question. Taking that first step is scary and challenging. Step back and assess a few key factors:
Goals

Obstacles 

Assets

Drawbacks
Gauging these for your family will give you a good place to start and a general guide to follow. Let's take a deeper look at each of these points.
Goals
What are your goals? Why do you want to educate your children at home? What are your children's hopes for homeschooling? 
Take some time to brainstorm as a family. Discuss these questions and dig deep into this journey's short and long-term ambitions. Your children are a significant factor in this process, and their insights help you determine which direction you should go on your new homeschool adventure. 
Homeschool Style
If you're new to home education, your next step is determining what kind of homeschooling you want to pursue. Look at your family's aspirations and see where they take you. Different homeschooling methods cater to various objectives, learning styles, and even outcomes. Investigate the types of homeschooling methods and decide what approach fits your family best. Time4Learning gives parents a general overview of the main types of homeschooling available.
Remember that you don't have to stick with one type forever! Homeschooling is about molding to fit each family, so it evolves as your family changes! Decide which method works best for the here and now, and let that guide you as you begin. 
Schedule
Sitting down with your kids and collaborating on a family schedule goes a long way towards bringing order from chaos. Look at your goals and see how your projected plan achieves them on a daily basis and long term. 
A2Z Homeschooling addresses single-parent homeschooling, particularly the schedule issue. "The key is to throw out your preconceived notions on when schooling should take place. Make your homeschool schedule when it is best for you and your homeschooler. This might be early morning or afternoon. You might need to school on different days than 'typical' school. Flexibility is the key."
Once you have collectively examined all factors, you can envision how your version of homeschool might look. Settling the schedule gives a boost of confidence and structure. 
Obstacles
Evaluate your situation and decide what aspects might make your choice to homeschool difficult. Talk to your children and discuss their concerns. Find solutions for problems that prevent you from moving forward.
Career
One obvious obstacle is your work. How can you continue to provide for your family and school your children at home? 
Well, working from home would be the ideal situation. If possible, pursue bringing your job home. Perhaps your boss is open to you working remotely, at least part-time. Since the pandemic, many employees have petitioned their employers so that they can work remotely, even if that wasn't an option before. Give it a try! You might be surprised. 
If your employer can't accommodate this, all is not lost! One fantastic aspect of homeschooling is that you can do it anytime, from anywhere. Evaluate your family— age, temperament, etc. Can they go to the office/worksite with you? Is there another family member who can stay with the kids while you work? Can you do school in the evenings and on the weekends? What about a nanny or independent/online schooling? You may have to think outside the box, but that's what home education is all about!
Time4Learning has a great graphic to help homeschooling parents think creatively about job options. Kim Sorgius of the Not Consumed Blog also lists a wide selection of suggested work possibilities for single homeschooling parents like herself. 
Legal
As you launch your new future, there are some legal considerations. For one, you should check the homeschooling regulations in your state. While homeschooling is legal in all 50 states, the laws are not all the same. The Homeschool Legal Defense Association (HSLDA) is a wonderful resource for homeschooling parents regarding legal concerns.
If there is another parent in your child's life, you should also check on any legal issues impacting your co-parenting agreement and homeschooling. Discuss your intentions with your kids' mother/father and see if you, the other parent, and the law can reach an agreement. Obtaining everything in writing offers you the smoothest sailing. It may be best to contact a lawyer as you work through this stage.
Budget
Be realistic. While the perfect homeschooling atmosphere is an inviting goal, it's not practical for many. If it works for your budget, then go all out if you want! However, if you're working with fewer resources, just remember that homeschooling is about learning. Learning can be done anywhere, anytime, and with nearly anything. Homeschooling does not have to be expensive. There are many free resources out there.
Family Education published an article offering parents tips for homeschooling on a budget. The Budget Mom is also a great resource for this.
Assets
Whether you're optimistic or apprehensive about your homeschooling journey, you aren't starting with a blank slate. Homeschooling is embracing life with a love of learning, which means incorporating assets you already have access to. You're probably farther ahead of the curve than you think! 
What You Bring to the Table
Take stock of anything in your life that might help you on your journey, such as
Talents

Skills

Education

Experiences

Family, friends, and acquaintances

Hobbies
You can use anything to teach and learn from home. 
Did you travel abroad while you were in college? Use the experience you had—say in France—to create a Day in France at home, with French food, an introduction to French culture, and some French history.
Do you travel for work? Bring the kids along! Use that opportunity to visit historical sites or plan other field trips. 
Is your brother a construction contractor? Talk to him and see if he'd be willing to teach a few evening classes on geometry and construction basics, or even show the kids how to build a miniature barn or house.  
Everyday life presents so many unique learning options!
Community
Research to discover what homeschooling support groups, coops, and communities are in your area. Homeschooling is a lot more fun when you have others to do it with! See if you can collaborate with other homeschooling parents to help each other out. If you work on Tuesdays and Sue works on Fridays, arrange to alternate teaching one another's kids on workdays. 
When you have a community of parents working toward the same goal and facing similar difficulties, the world seems less lonely. 
Drawbacks
While homeschooling is an incredible option for families in the U.S., make sure you're aware of the potential negatives accompanying this choice. 
Your Family
For the most part, drawbacks will be family-specific. 
Perhaps you'll have to scale back your hours to stay home with the kids. This could result in a tighter budget in every area of your family life. 
Maybe the non-custodial parent disagrees with homeschooling. Acknowledge any difficulties related to that and make sure you discuss them with your children gracefully, without pitting them against their other parent. 
Forewarned is forearmed. Taking a realistic view of potential problems can increase your chances of mitigating the problem as effectively as possible. 
In General
Some negatives tend to be common regardless of whether you have a single-parent household or not. 
For instance, if you have children who have already attended a local school, remember that they may miss seeing their friends daily. The "socialization" problem with homeschooling has been debunked repeatedly. However, your kids will probably see less of their old school friends and spend time making new ones throughout homeschool groups, community activities, etc. Recognize that there might be a period of adjustment when making this transition. 
The homeschool environment is also very different from a conventional school setting. Your children might need some time to change their mindset and accept the new concept of what "school" is. 
Younger kids will also experience a period of adjustment. If they're used to playing and socializing all day at daycare, preschool, or kindergarten, staying home with Mom or Dad might upset their sense of routine, and they will miss the constant social interaction. Be aware of the emotional and physical adjustments they will be experiencing. 
Single Parenting Doesn't Mean Limited Parenting
Single parenting is a unique lifestyle with a lot of challenges. However, single parents are tenaciously dedicated to the well-being of their children, and education is no exception. 
If you are a one-parent household, this doesn't limit your ability to educate your children the way you think is best; it merely presents some specific hurdles to clear. Look over your options, evaluate your family's needs, adjust for any issues, and then go for it!
By arming yourself with wisdom, information, and an open mind, you're setting yourself and your children up for success in this adventure!