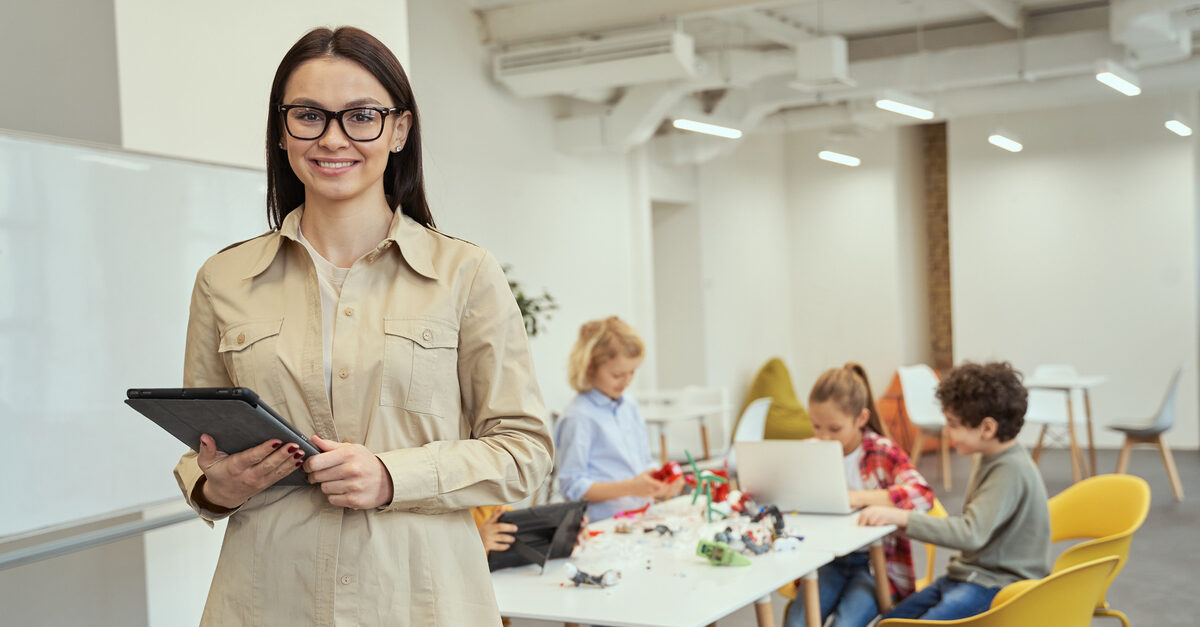 Substitute teaching can be a beast! There's no argument there. Working random days, sometimes on late notice, with kids who prefer their regular teacher — it's a difficult job. How do some substitute teachers nail it every time, while others struggle? 
How do you become the coolest substitute teacher in school, someone both staff and students love to have come in?
Whether you're seeking to someday move up to full-time teacher, or you just love working with kids part-time, the key to success is this: have a plan and go with the flow. It sounds paradoxical, but stick with us! By the end, you'll hopefully see how being prepared and being ready for anything will make you the school's favorite substitute. 
Start The Day Out Right
In order to impress your employers with your adeptness, and to get a smooth start, arrive at the classroom early. 
It's important to look over the lesson plan the teacher left you, acquaint yourself with the classroom before students arrive, and make connections with the school staff. Say good morning to the other teachers, and even take initiative to walk into the classrooms nearby and introduce yourself. This is especially important if you're subbing for a lengthy period of time.
Going the extra step to create relationships will be especially beneficial in your substitute position. Substitute teachers are not as respected as full-teachers, in part because they are only part-time employees. Taking initiative to be kind and friendly and willing to chat with the school staff will prove to them you're in their corner.
Getting to school early will also benefit you in another way. As a substitute, you'll sometimes be the one bringing order to chaos. Hopefully, the regular teacher has left things ready for you: a clean classroom and a detailed lesson plan. But you won't always find this to be the case, so to start the day out right, get there early to check out the situation and have an emergency lesson plan handy. Plus, if you get to your classroom early, you'll have a little extra time to tidy up.
Do An Attitude Check
If you're having fun, your students will catch on and have fun too! Of course substitute teaching is a tough job. Subs tend to get a lot of pushback from students. Kids have a mistaken idea that they can get away with anything when the substitute comes in. 
So by all means, have a discipline plan. Set down your rules right away. But, at the same time, keep things positive for both yourself and them. Write "Rule #1: Have Fun!" on the whiteboard, tell jokes, smile and laugh. Be confident and firm without raising your voice or becoming annoyed.
Your positive attitude will be challenged throughout the day. So, it's critical that you check in with yourself and be certain you're having fun and remaining cheerful.
Run Through Your Introduction Routine
Once the students arrive and are seated, it's time to introduce yourself. 
Decide on your introduction routine at home ahead of time. You'll be using it a lot as you move from classroom to classroom. You might have a fun or unique way of introducing yourself. However,t simply writing your name on the board is enough, so long as you're friendly and let them see that you're happy to meet them. This step is critical to helping students feel comfortable with you.
Get all of your students to tell you their names and then move onto an "icebreaker." One teacher uses the game "Two Truths and a Lie" to get to know her students better. Each person, including you, writes down two things that are true and one thing that's a lie, and then everyone has to try to guess which is the lie. Check out these additional ideas at Study.com, or come up with your own!
Then, quickly go over your classroom rules and establish any consequences and rewards you plan to offer based on their behavior. You might also introduce an attention-getter (we'll talk more about this in a bit).
Know Your Kids
In addition to playing fun games, get to know your students on a deeper level. Talk to them individually. Watch them to learn about each individual. Does that girl always have a book nearby? Ask her if she likes books, and what her favorites are. Is that boy wearing a Marvel shirt? Ask which superhero is his favorite!
If you talk about something they love, they may open up, and you can talk on a deeper level about their family, friends, hopes, and dreams. 
Get Their Attention
It's important to have a few quick attention-grabbers up your sleeve. 
Every teacher has a different approach to getting students' attention, so feel free to make this your own. Some teachers hold up their hand and count to five by putting down one finger at a time. By the time you have no fingers left up, your class should be silent.
Edutopia also suggests picking a clapping pattern that you use to get students' attention. Clap to them and then have them clap back. Or you can have the entire class countdown from five. 
There are many ideas for attention-getters out there. Use one of these or do a quick Google search to find one to suit your needs, style, and the age group of your students.
Shake Things Up To Distract Them
After you have their attention, you need to keep it. Come prepared with diversionary tactics! To keep kids' attention, you might read aloud from one of your favorite books, play a fun game, or surprise them with an unplanned activity.
If they don't expect it, an "unplanned" game or activity can really work in your favor. It will instantly distract your students, especially if they're on the younger side. But don't forget to use incentives, too. Tell them what you have planned if everyone behaves or finishes their work early. Distract them with the reward, and they'll probably end up doing more work and being more cheerful about it.
Put Your Own Spin On It
It's important to follow the teacher's lesson plan faithfully when you're substituting. But that doesn't mean you can't put your own spin on it. Let your personality shine through in everything you do.
If you like to sing or listen to music, incorporate that into the day. If you're good at riddles and brainteasers, embrace that. Dress in a way that brings out your fun personality, or bring a tote bag full of books, stickers, coloring pages, or stationary. Switch up or eliminate an activity or a drill that the kids are used to doing everyday. Think creatively and your unconventional methods are sure to win you the "coolest substitute" badge.
Buttoning Things Up After a Long Day
It's been challenging, but you got through the day with a smile! Now it's time to make sure things are all ready for a smooth transition back to the regular teacher.
Have the kids help you clean up so everything is tidy for when their teacher comes back. They'll probably enjoy surprising their teacher with a clean classroom, maybe a note or a handmade sign welcoming her back.
You may also wish to stay for a few minutes longer to do some spot cleaning or tidying after students leave. 
Now you're ready to head home, except for one important thing. Make sure you leave a note for the teacher. This is something that teachers wish substitutes did more often. You can make it short and sweet, telling her how fun it was to teach her class and giving feedback on how the kids behaved. You also should detail any instructions you handed out, homework you assigned, or other relevant info she should know about.
If you button things up well, the teacher and the school staff will come to view you as a reliable and honest person, and hopefully, they'll call on you over and over again.
Becoming An Awesome Substitute Teacher
Great job. You're on your way home now, after a good day's work as a substitute teacher. You went in with a plan, you were ready for anything, and you conquered the substitute teaching beast!
If you show yourself to be a confident, fun, and skillful substitute, you'll get more work and become the person your school administration knows they can depend on every time. Not only that, but you'll be loved by the students and they'll be excited when they get to have you for the day.