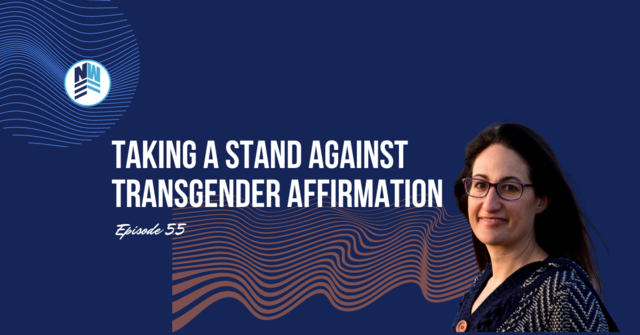 Therapy is no longer safe and, sometimes, it does more harm than good.
Why doesn't modern therapy always work? Part of the reason is simply: "affirmation." Many therapists are pressured to affirm everything, even dangerous delusions and irreversible gender changes in children. Today on The State of Education with Melvin Adams, we're again talking with conservative therapist and activist Pamela Garfield-Jaeger, who isn't shy about her views on where the mental health industry is headed and how we can take a stand.  
"[T]o be inside the institution and quietly find other like-minded people to gather and fight against this is actually really valuable…To be able to change minds face-to-face, day-to-day with people that you trust and people that you can talk to." — Pamela Garfield-Jaeger
On this episode, Melvin and Pamela discuss:
Where to begin searching for a good therapist for a child—do they want to know your child's pronouns? Do they have different policies based on the color of your skin? Do they want you, the parent, excluded from conversation about gender? If so, Pamela says, that's a red flag.

Resources for parents who want a conservative therapist

What's happened to all the conservative therapists? Why are they losing their jobs or compromising on gender policy?

Why Pamela lost her job for good after coming back to her practice after years of sickness—and how she was embolden to begin speaking out against the changes she saw in the therapy industry

Should a conservative-minded therapist stick with their practice? Can they hope to do some good on the "inside"?

What non-therapists and people in the education system can do to expose the gender affirmation that has taken over therapy

Where you can find Pamela's writing on the web, plus a peak into a new documentary featuring her testimony

The terrible harm being done to young people who are told by peers, society, and therapists that they should consider being trans and receiving "gender affirming care," often without parental consent
If you like what you're hearing, stay tuned for our next episode on The State of Education with Melvin Adams.
If you'd rather watch the video version of our podcast episodes, subscribe to our YouTube channel to get notified every Wednesday when new episodes launch. Here is today's conversation with Pamela Garfield-Jaeger and Melvin Adams:
RESOURCES MENTIONED ON TODAY'S EPISODE: