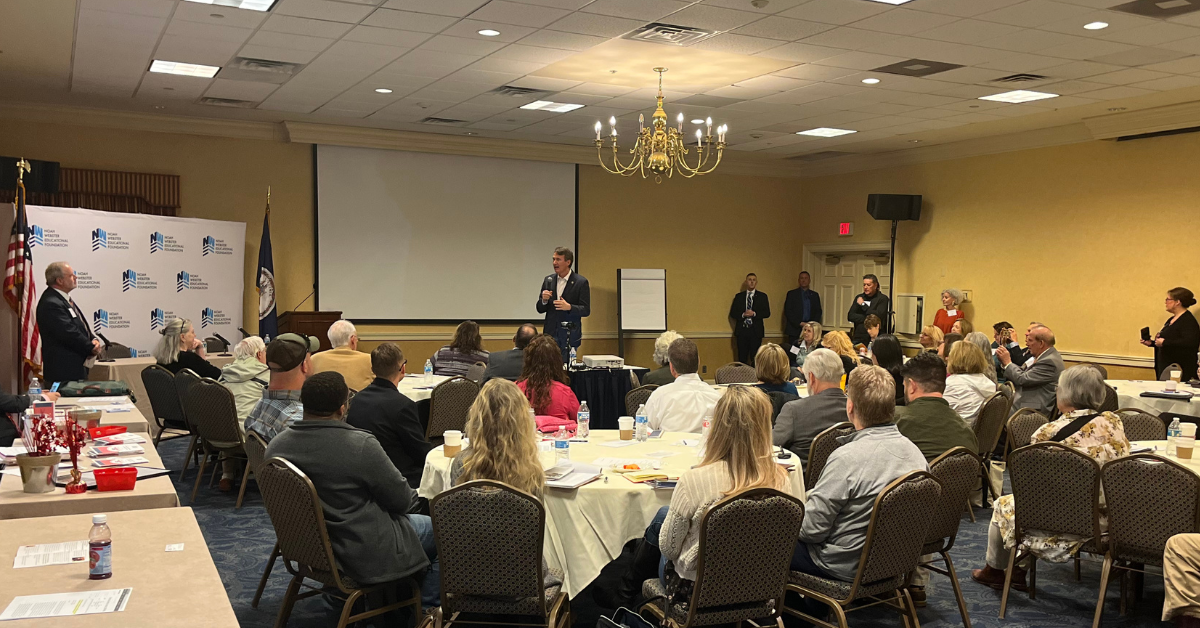 This past weekend, Noah Webster Educational Foundation (NWEF) hosted a professional development summit for Virginia school board members with conservative values, which featured notable speakers like Governor Glenn Youngkin.
Over 50 school board members and candidates from across Virginia gathered on March 3-4 to learn how to best represent their constituents from several education advocates and experts. The two-day summit, which was held just 20 minutes north of Richmond, provided training on practical issues that every member faces, such as what powers school board members have according to the law and how to navigate Title IX and free speech issues. 
"It was thrilling to spend two days with a large group of school board members from across Virginia who were eager to be equipped in ways that strengthened their leadership influence and oversight ability," said NWEF president, Melvin Adams. "They clearly wanted to serve their communities and work with parents and educators to protect and empower Virginia's students. The energy in every session was great and the interaction was robust. The presenters and panelists were all outstanding!"
"I found each session fruitful—not often the case at these events!" said one VA school board candidate in attendance, Meg Scalia Bryce, daughter of the late Supreme Court Justice Scalia. "Moreover, I was thrilled to connect with others who care deeply about public education and are willing to fight to make it better. I came away feeling inspired and reinvigorated for my own campaign… Thank you for your efforts in hosting an excellent summit this weekend…[and] for being fierce advocates for kids and parents."
Along with Governor Youngkin, speakers included veteran school board members, legal experts, experienced educators, and Virginia Assistant State Superintendent Elizabeth Schultz. Training session topics featured protecting kids from political agendas found in some Social Emotional Learning (SEL) practices, keeping explicit books out of school libraries, and learning how the Freedom of Information Act (FOIA) applies to school board members. 
On Friday, there was an informal dinner with the founding directors of the School Board Member Alliance of Virginia (SBMA). Attendees got to talk with the directors and learn about how SBMA began. Summit sponsors were SBMA, Virginia Education Opportunity Alliance, Thomas Jefferson Institute for Public Policy, The Family Foundation, and The Middle Resolution Policy Network.
Here's some of the feedback that attendees gave in regard to the event:
"I so appreciate these two days. I have learned a great deal as a candidate. It is my hope to share this group with other board members."
"In the three years I've been a school board member, this is by far the most useful event I've attended."
"These tools are so valuable to me as I run for the school board. I will definitely share what I gleaned from this experience."
"This was an excellent conference! I look forward to attending future events. Every session was excellent!"
"I am so thankful to you for offering this event. My head is swimming with all of the information I've learned and the incredible connections I've made. I feel much more prepared to run my race this year."
NWEF will make the training sessions available online at a later date.
As a nonprofit 501(c)3 organization, NWEF's mission is to educate and collaborate with individuals and organizations to tell the story of America's education and culture, identify foundational principles that improve it, and advance practice and policy to change it.
---
Wondering how you can make a direct impact in your school district? Learn how to run for school board and win with NWEF's leadership training, Introduction to School Boards.