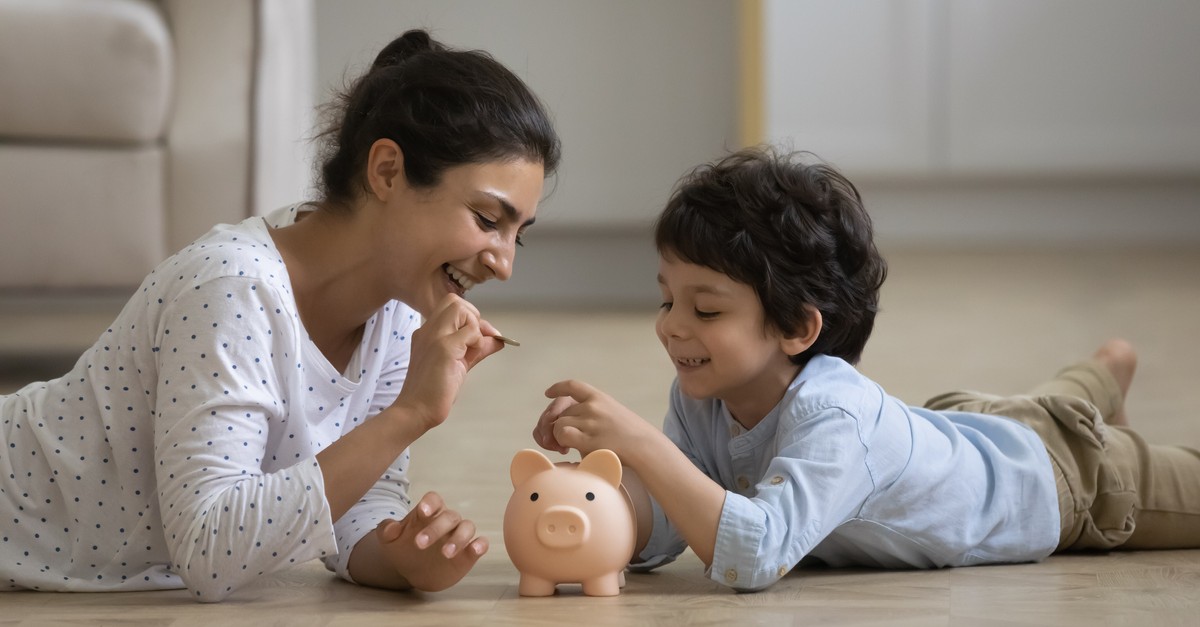 You've read the financial blogs and listened to the money-saving podcasts. You've learned from your own mistakes and acknowledged where you went wrong. You've talked to your kids about financial literacy and tried communicating your wisdom and experience, but are you getting through?
Grappling with financial literacy in a world gone electronic is challenging. Financial magazine, Success, notes how difficult it can be for modern parents. "The days of working hard to earn a buck aren't exactly gone, but the personal finance landscape is certainly more complicated now than it was a few decades ago. Budgeting and building credit are only the beginning—you also have student loans, mortgage rates, and maybe even cryptocurrency and non-fungible tokens (NFTs). It's all a little much for an adult. But for a kid?"
Success hits the nail on the head with this observation. Life has never been easy for any generation, but young adults today face a far more complicated financial climate than our grandparents and great-grandparents. 
And as parents, we must find a way to train and prepare our precious offspring for the world they will enter. 
Thankfully, there are tools that we can embrace while on this challenging journey!
Technology Can Help
The Educational App Store observes, "Parents today have the opportunity to do so much more for their kids' future, and they have the incredible tools – like money apps and platforms – to help them do it."
Technology has complicated nearly every area of life, but in many ways, it has simplified certain aspects, too. The technological age has broadened the parental toolbox in unimaginable ways, and apps are a huge collection of helpful aids. 
Let's check out some of the many apps and websites available for teaching kids financial literacy and money management!
Practical Options
Greenlight
The first tool we'll examine is Greenlight. The Greenlight app is multi-functional, allowing parents and kids to "Learn to earn, save and invest together." 
Forbes Advisor's review includes this explanation, "The Greenlight app is specially built with families in mind, and it's designed for kids of all ages who are ready to start learning about money. Using the Greenlight card for kids, parents can teach their children about budgeting, spending wisely, saving and investing."
The Greenlight app offers many functions for engaging parents and kids in this financial journey, including: 
Partnering with parents for automatic allowance payment in exchange for specific chores

Budgeting—setting financial goals and rewarding wise money choices

Investing

Cash back

Games that teach money management 

A training debit card
The Greenlight subscriptions range from $4.99/month to $14.98/month and as of 2022, more than 4 million families had opened accounts with the app. 
The Simple Stuff
PiggyBot
Let's scale back on the supercool technology and examine a more simplistic app for those who prefer a more old-fashioned take. 
PiggyBot is a free app for iOs users that basically functions as a virtual piggybank. It's an allowance management app without any actual money involved. The app merely tracks parent/child financial interactions, allowing parents to "pay" their child and allowing the child to "claim" their earned income. It's a great, low-risk app that keeps a virtual visual of a child's "savings" for them. 
When the young earner is ready to cash out, they can alert their parents via the app. Parents will need to go elsewhere, such as their ATM, to actually obtain the money and transfer it physically to their kid. 
The Educational App Store review includes, "Kids can set goals, take pictures of things they want, share money, and more… And there's a fun screen to show off the items they purchased, reinforcing principles of saving for wants, needs, and nice-to-haves."
A simple, practical app, it's suitable for beginners or kids who already have a goal and want to keep track of their savings. 
Time for Games
Everyone enjoys a good game, especially kids of all ages! Games can be a fun way to reinforce financial principles. While there are literally hundreds of online and app-based games to teach kids financial literacy, we can't cover them all today, but here are a few fun-looking options for your game-loving learner. 
Ages 5-10
Savings Spree is an interactive game for younger learners. With game-show-style gameplay, kids will dash their way through real-life situations intended to demonstrate how daily choices can end up having financial consequences. 
Common Sense Media notes that Savings Spree "uses an actual divided piggy bank with sections for SAVE, SPEND, DONATE, and INVEST to help kids choose where to put their money. The app includes resources for parents, tutorials for kids about making wise decisions about money, and a game show-like activity where kids earn, spend, and save virtual money."
This game teaches financial principles such as:
How making financial choices early on can affect the future

Saving for a goal

Wise spending choices

Investment options

Charitable giving
With an A+ from Common Sense Media, Savings Spree will give your kiddo a leg up in understanding successful money management! 
Ages 9-12
You can't replace the classics! The modern version of the old favorite LIFE is a terrific option for teaching tweens the value of successful money management. Using basic life decisions to illustrate real-life consequences, the digital game of LIFE plays very much like the old-school board game. However, there are a few additions in the phone version, including:
An online multiplayer mode

Local play, allowing up to four players using one single device

Minigames that add an extra bit of fun
It's basic, but gives a good visual of financial choices and how they can affect the player later in LIFE!
Older Kids
Many older kids and teens are passionately into sports. If your kid enjoys football or loves to learn about the financial world, the Financial Football game will be right up their alley!
Practical Money Skills explains, "Visa and the National Football League have teamed up to create Financial Football, a fast-paced, interactive game that engages students while teaching them personal finance skills."
The game features printable lessons along with online gameplay. Players face scenarios, quizzes, and consequences as they attempt to move their team down the field. The game illustrates how financial choices have consequences and challenges the players' financial knowledge. 
According to The Tech Edvocate, "the program teaches learners that every play counts when it comes to budgeting and saving, how to avoid fumbles by handling debt and credit, and even how best to plan routes for life events…. Use strategy to pick the right play and then answer true/false or multiple choice questions about the financial lessons."
Available on iOS, Android, and via website, Financial Football is sure to have your teen excitedly learning critical financial concepts. 
Educate and Invest
Education is key to successful financial management, especially when looking out for your kid's financial well-being.
Two big words in the financial world are "credit" and "investment."
We must proactively educate our children concerning the importance of credit. It's a financial aspect that can affect their lives in major ways. 
Kiddie Kredit
Kiddie Kredit combines work ethic and discovering how credit works. Created by an entrepreneur who learned about bad credit the hard way, Kiddie Kredit encourages kids to up their in-app credit score by completing real-life tasks and chores. 
CNBC highlights the app in an article featuring the creator of the app, Evan Leaphart, and his inspiring story. The news organization notes, "The free Kiddie Kredit mobile app gives kids points for completing chores around the house, and they are then rewarded with both monetary and non-monetary prizes after meeting a goal. (The choice of prize is up to parents.) Kiddie Kredit's points system parallels the FICO model, the favored credit scoring model among lenders."
Hoping to help other young people avoid the same mistakes he made, Leaphart created the game to prepare kids at an early age to understand the potential consequences of their financial decisions. 
Investing is a tricky balancing act, and they need practice before they branch out on their own someday. Investments can pay off big time if one does it correctly, but it's best if they have a baseline understanding of some of the basic principles before attempting it. 
Stockpile
Forbes notes that "picking the right investment app to help educate your child when it comes to investing can be a helpful first step. Pick the wrong app, and the experience may feel more like gambling than investing…Pick a solid app, and your child may well be on their way to a lifetime of sound wealth building."
Forbes then lists five suggestions for parents to examine for their teens. One of their recommendations is the Stockpile app. 
This app allows parents and teens to work together to educate kids on how the stock market works. Teens browse available stocks, choose which one(s) they would like to invest in, and parents have the choice to approve or decline the choices. Through the supervisory role the parents play, they can guide their teens through the complex world of stocks and help their eager beavers to discover how to spot a good investment opportunity. 
The app boasts several inviting aspects:
Designed for families

Hands-on learning

Simplified crypto

Fractional trading

Debit card check-out
Reality Check
While not an app, JumpStart offers a terrific tool online for teens. Through their website, teens can access a short quiz about how they expect their adulthood to begin, including living arrangements, expenses, general budget, and expendable income. 
After they answer the questions, JumpStart offers them a reality check. Based on their perception of their future, how much money will your teen need to make per year? Then the website offers a helpful list of jobs and careers that might meet your teen's perceived needs. 
MoneyCrashers gives their review of this interactive tool. "This preview of the future helps steer youngsters toward realistic choices about their future career path. Based on the answers they get, they might decide they need to stay in school longer, choose a different career, or scale down their expectations about their future lifestyle."
A great tool for helping your student really start to think about the realities of their up-and-coming adulthood, "Reality Check" provides real-life information for your teen's education and preparation. 
Modern Parents Using Modern Tools
Good parents know that successfully raising kids requires personal growth, an open mind, and as many tools in our tool bag as we can collect. Technology offers a wealth of information and educational aids to enhance our parenting experience. 
If your kid enjoys technology (what kid doesn't?) then you just might find that these modern tools help you and your kid bridge the gap between your knowledge and their comprehension!
This article concludes our 4-part series on teaching finances. Click here for Part 1. Check out Part 2 here. And if you missed part 3, Setting Your Teens Up for Financial Success, click here to catch up.