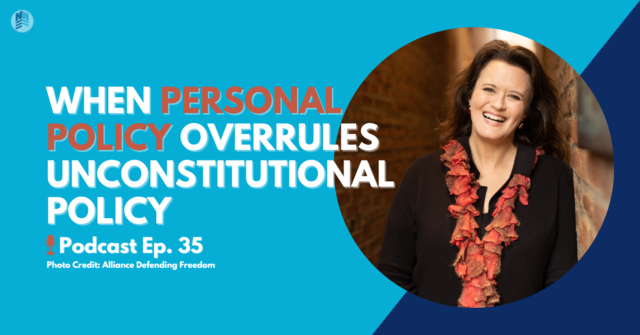 What's one way we can love the children in our lives unconditionally? By fighting for the truth.
Monica Gill, a highschool teacher in Loudoun County, Virginia, encourages other parents and teachers to bravely counteract the problems they see in education. In partnership with the Alliance Defending Freedom, Monica has successfully opened a lawsuit to sue her school district for the inception of school board policy 8040—a policy that forces teachers to use a student's preferred pronouns. She doesn't believe in lying to children about their identity, and today she shares how she promotes best practices in the classroom despite the slow degradation of education over the last decade. Listen in to her conversation with Melvin on The State of Education to find encouragement for your next step in reclaiming education! 
"I couldn't wait to be a teacher for Loudoun County Public Schools—it had the best reputation for the best education. But in the last 10 years, I would say, I have watched that crumble and have been dismayed by that crumbling. And finally, a few years ago, I was like, 'I can't be quiet about this anymore. I have to step up and stop the rot.'" — Monica Gill, history high school teacher in Loudoun County, Virginia
Today, Melvin and Monica discuss:
Monica's goal not only to teach more than the bare facts of history, but to love her students and let them know she's supporting them in many different, thoughtful ways

Her experience with public schools, from being a student to becoming a Loudoun County teacher of 20—where she's had a front-row seat to the Loudoun County schools' deterioration

Monica's lawsuit over policy 8040, which states that teachers, students, and staff must refer to students by their chosen pronouns. Plus, Monica details the reasons behind why she got behind the lawsuit—mainly owing to her Christian faith and her desire to be truthful with her students

The moral problems transgenderism and gender ideology introduces, as well as the consequences of affirming it as truth

The erosion of academics in the past few years—for example, Monica's discovery that all of her 11th grade students were actually only at an 8th grade reading level—and the shift to social and ideological issues

The restrictions teachers face when it comes to teaching students responsibility, good work ethic, and discipline, even in the simple act of grading papers

Being "a part of the process" in your child's life and education, as well as in your local schools (even if you don't have school-aged kids!)

Encouragement for teachers who may be facing discouragement or unemployment 
Do you like what you're hearing? Stay tuned for our next episode on The State of Education with Melvin Adams. 
If you'd rather watch the video version of our podcast episodes, subscribe to our YouTube channel and hit the notification bell to get notified every Wednesday when new episodes drop. Here is today's conversation with Monica:
RESOURCES MENTIONED ON TODAY'S EPISODE: