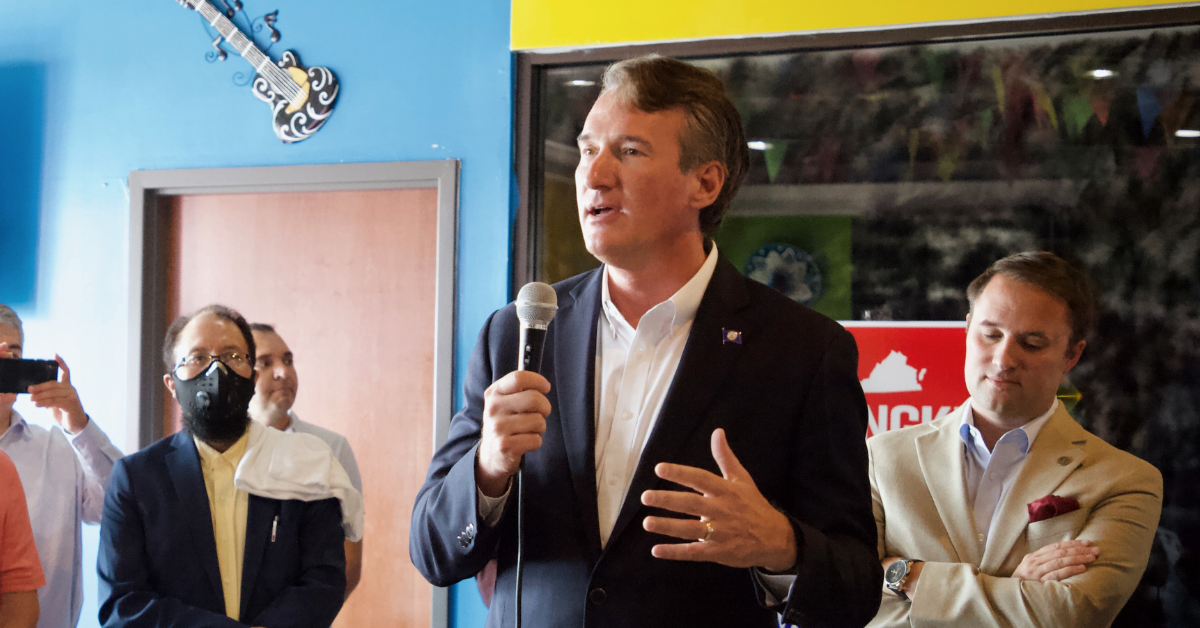 Virginia Governor Glenn Youngkin's administration recently announced the ending of the email tip line where parents could express concerns over "divisive concepts" that were pushed in schools.
Shortly after Youngkin was inaugurated this year, his office announced the tip line for parents to report "any instances where they feel that their fundamental rights are being violated" or if schools were teaching "inherently divisive practices." Youngkin's administration had kept the emails private up until this past week as part of a settlement in which several media outlets sued after being denied access to the emails.
Come to find out, however, the Youngkin administration ended the tip line back in September due to "little or no volume of responses."
"The help education email was deactivated in September, as it had received little to no volume during that time," explained Youngkin spokeswoman Macaulay Porter in a statement. She noted that constituents can still reach Youngkin's office with concerns without the tip line. 
Youngkin's office denied requests to view the emails, saying it was a private matter between his office and constituents. But, based on the emails that were published due to the settlement, it reportedly seems as though most emails did not fit the description of concerns about "divisive concepts" in schools.
In fact, of the 350 emails that were released, about 160 were sent by special education advocate Kandise Lucas to complain about inadequacy in special education.
"My primary purpose was to raise the issue of how the governor failed us," Lucas said. "He won an election on how parents matter; parents voted for him because he validated their voice. And we learn now, 10 months into his tenure, that we don't really matter."
Lucas alleged in the emails that parents were being denied special education services. She was hopeful that the Youngkin administration would deliver on its promise to put parents first—but she's been disappointed so far. She said she hasn't heard back from his office.
One former teacher said she was using the tip line to praise Virginia teachers to counteract the negativity they receive. She claimed she has also not received a reply from Youngkin's office.
Yet, concerns about what students were learning were still laid out in some of the emails released. One Loudoun County parent expressed frustration about needing to put in public record requests to have access to their child's curriculum. Another parent sent pictures from the book All Boys Aren't Blue to show the controversial books in the library. A high school student also shared that his teacher was implementing Critical Race Theory policies and was making "Beowulf" out to be a sexist story. 
Youngkin's office has not disclosed how many emails they've received, nor the contents of the rest of the messages. They've also not shared which they've responded to or acted on.
But, they said they value getting "basic input" from constituents.
"We get emails, we get phone calls, we get letters," Youngkin said. "And all of that just makes me a better governor, and I think those are the kinds of things that have allowed us to be responsive to needs in Virginia."
Across the country, some governors have worked to give parents more of an influence in their child's education. Montana Governor Greg Gianforte just announced a "pro-student, pro-parent, and pro-teacher education agenda" for the upcoming legislative session. A few weeks ago, Arizona Governor Doug Ducey signed into law a universal voucher program to allow parents to send their children to the school of their choice. And several months ago, Florida Governor Ron DeSantis signed a few laws to give parents control over what their kids are exposed to in school.
Gubernatorial candidates know that education has been at the forefront of many voters' minds, which is why it's been a key issue in several races across the nation.
---
What did you think about the education email tip line?