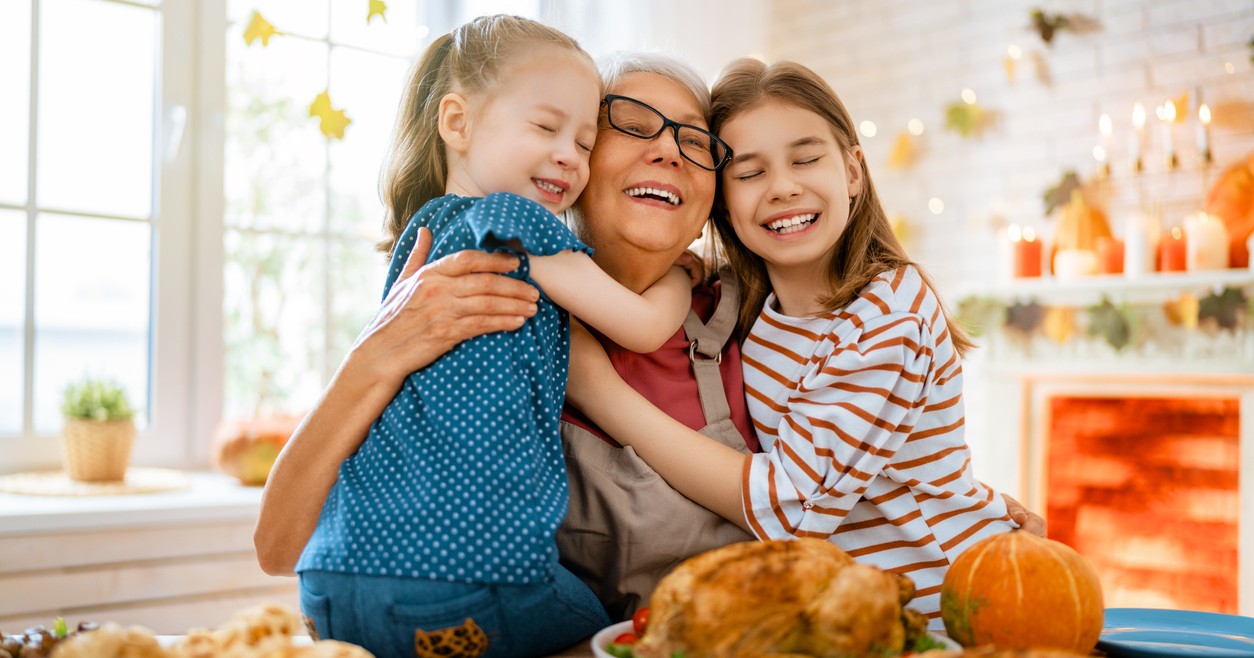 Thanksgiving is just around the corner. Not only is this time of year a cozy holiday with family, friends, and football, but it's also a wonderful reminder to evaluate our attitudes. Are we grateful? Are our children grateful?
Practicing thankfulness isn't easy. Have you struggled to teach your kids or students to be thankful? Maybe you find it challenging to model gratitude for them in practical ways. Or maybe they just don't seem to "get it," and you find yourself constantly reminding them to say thank you.
If you want to start a wave of thankfulness in your family or class, then we have a few ideas for you! Here are some fun and simple ways to teach gratitude to kids.
Say Thank You
You knew we were going to start with this, didn't you? "Say thank you" might be a cliche, but it's an important one. 
Saying thank you starts with you. Practice saying it even when you don't think you need to, and by doing so, teach your kids to do the same. Saying thank you is taught primarily by example. Say it to your kids, your spouse, other grown-ups… everyone you come in contact with. It's especially important for a child to hear you saying thank you to other adults. A quiet "thank you" and a smile will do most of the time, but practice saying it in a tone of voice that implies the person themself is invaluable and you truly love and appreciate them. 
And don't forget to never get weary of reminding your children to say thank you. It pays off in the end.
Create a Thankfulness Bulletin Board
Grab a white board or bulletin board from Walmart, hang it up in your home or classroom, and announce that it is a thankfulness board. Anyone who owes another person a thank you writes their note on the board. This method will help children feel more comfortable with expressing thanks publicly without embarrassment and let others know they are loved and needed.
Make it a Ritual
"Although it might seem like gratitude should be spontaneous rather than rehearsed," Very Well Mind says, "making gratitude a habit can ensure that kids practice it on a regular basis, and it can become like second-nature."
In fact, having a gratitude ritual can be life-changing for your family. You might go around the dining room table with everyone naming one thing they're thankful for. Or every time you get into the car for a long ride take turns thinking of things you as a family are grateful for. 
Or maybe you teach kindergarten, and every morning you sit the kids down in a circle and discuss things they're thankful for. Be creative and intentional. Before you know it, your thankfulness ritual will become an indispensable part of the day.
Have Gratitude Objects
Have you taught your kids to be thankful, but you're looking for a subtle, creative way of reminding them? You might want to choose a gratitude trigger. 
This "trigger" might be anything. A certain landmark you drive past every day. An object you have around the house. The sunshine. A bird. The point is, when you and your kids or students see this gratitude object, it reminds you to be thankful. This is a great way to quickly shift children's focus back to what really matters: being thankful for the world we live in. 
Host a Thankfulness Craft Party
This is a one-time event that can keep on giving. Sit your kids down and let them pick out a gratitude craft. You could create thankfulness jars, create a small stock of decorated cards to send to loved ones, and more! 
November is the perfect time to host your thankfulness craft party because you can create decorations to plaster all over the house or classroom that look cute and remind everyone to give thanks at the same time.
Send Thank You Postcards
Cards are wonderful, but they do take a little extra effort. If you want a quick and easy way for your kids to send thank you notes to friends and family, arm yourself with postcards (maybe from your craft party). No fussing with envelopes or long messages: write a few words of gratitude, add an address and a stamp, and send it off! 
The important thing is teaching your children to show thankfulness with their actions, not just their words. Sending notes to people they're thankful to (or for!) is a great way to do just that.
Look for the Heroes Around You
Teaching your children about heroes is not only a great way to teach them thankfulness, but also help them become responsible citizens. 
At the dinner table, talk about a hero from history. Look for local heroes together in the daily news. Talk about brave things your child's grandparents or great-grandparents did to make a better life for their children. Call a child's attention to the actions of both historical and familial heroes that are selfless and worthy of our gratitude.
Simply talking about heroes will help your child or student develop a thankful attitude. Better yet, if the hero is someone you know and can thank personally, brainstorm a way to do so. Ask your kids, "how can we thank this person?" They'll probably come up with some great ideas.
Ask Why
After you or your child have identified something you're thankful for, dig a little deeper. Ask your child, "Why are you thankful for that?" This can take the conversation to a new level and challenge your child to think about what he's saying instead of simply saying words by rote. This is an especially good tactic if you've already been learning thankfulness for a while and want to shake things up!
Teach Children to Participate
Helpfulness is something every child should be taught, of course, but did you know helpfulness can instill thankfulness as well? When children are required to participate in chores or classroom clean up, they're learning to be grateful for clean spaces. When they're asked to do something that is usually someone else's job, they're learning to be grateful for that person's contribution.
Self-sacrifice is at the heart of participation. If no one sacrifices their time and energy, nothing will get done! Doing hard work and helping out will develop thankfulness in kids like nothing else will.
Make Gratitude the Focus of Thanksgiving Day
Thanksgiving is all about being grateful. It's literally in the name! But today, many seek to undermine Thanksgiving in America by saying the opposite: they believe Thanksgiving is a product of racism and imperialism, and, therefore, we shouldn't be thankful.
The truth is, we have much to be thankful for. We can be thankful for the first inhabitants, the Pilgrims, the Founding Fathers, the generations after that each build upon each other.
We can be thankful for each soldier and citizen of every race and gender across the centuries that have sacrificed everything so we can be here today, continuing to learn, build, and improve our great nation. Even with all the turmoil we've seen in America in the past few years, there is still religious and educational freedom, safe, happy homes, and brave people who stand for truth.
The reason we have all of these blessings is because brave people fought for them before us, and we need to tell that to our kids!
Make gratefulness the focus this Thanksgiving. It's a great way to teach kids about being thankful, and being thankful will teach them to be happy people who love others and their country.